Sally Wilson
Sally is a key member of the MoneyMaxim editorial team. She is a frequent hire-car user and often goes on holiday with her family. With an interest in getting great value for money, Sally shares her hints and tips for travelling and insurance.
4 July 2017
A Trip on Two Wheels - Short Term Motorbike Insurance
From courtesy motorbike cover to insuring a friend's scooter - short term motorbike insurance can offer a solution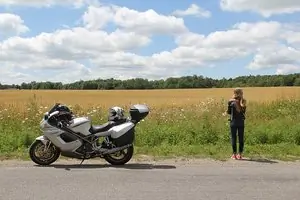 As the warmer drier weather emerges, those who enjoy driving on two wheels rather than four breathe a sigh of relief. For motorbike riders there is nothing like the feeling of getting out on the bike and enjoying the sense of freedom riding provides. Getting annual insurance for a motorbike is comparitively simple but what if you only want short term motorcycle insurance?
Sometimes the opportunity to borrow a bike comes along - perhaps you and a group of friends want to set out together, you don't own your own bike but a friend is willing to lend you theirs? If so, you may only want to insure the bike for a short spell whilst you are away on your trip. Short term motorbike insurance policies can provide cover for between one and seven days. If you need longer cover, you can apply for a new policy when the previous one expires.
The advantage to a separate short term policy is that, if you are borrowing the bike from a friend, then if you need to make a claim it will not impact your friend's no claims bonus on their own insurance and therefore ensures your friendship remains strong!
Thinking of buying your own motorbike? if you are taking a bike for a test ride, short term motorcycle insurance means you can try the bike out on the road to really get to know it before deciding whether it is the right vehicle for your needs.
If your bike is in the garage for repairs or a service, you may be offered a courtesy motorcycle so that you can still get around. This courtesy bike may not be covered by the garage and short term motorbike insurance can bridge that gap so that you are still on the road.
If you are selling or purchasing a bike or just need to fetch or drop off a bike, you may only want insurance to cover you for a short ride on one day. Whatever your short term motorcycle insurance needs, run a quote today to find the cover you need to keep you insured on two wheels.