Samsung Galaxy S9 Insurance - Compare Prices with MoneyMaxim
Compare several Samsung Galaxy S9 insurance policies with us. We compare policies fast, for you to have the choice of cover to suit you.

The latest handset from the tech giants Samsung is the 'Samsung Galaxy S9 and S9+'. Here we look at how and why the phone would benefit you in your day to day life, the great features it has to offer and also how, through MoneyMaxim's comprehensive comparison service, we can help you find the most suitable insurance for your new phone and more.
Our phones are an important daily feature, in most of our lives. Whether we use them for staying in touch with the world, listening to our music, photography or mapping out directions, our precious gadgets are a necessity for most of us. Whilst the technology is improving and the prices increasing, we are increasingly vulnerable to theft of our expensive belongings, along with damage and loss whilst on the go. With phone insurance via MoneyMaxim, you can be covered for those unexpected incidents and have your gadget repaired or replaced after completing the insurer's own claim procedure.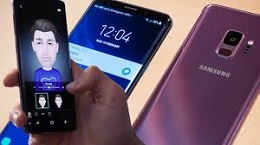 Samsung Galaxy Review
Although by immediate sight the Galaxy S9 does not look too dissimilar to its predecessor, it does offer new, revolutionary technology that puts it ahead in the current smart phone market.
Slight changes introduced by Samsung include a relocated fingerprint scanner to a more obvious place on the rear of the handset, making it easier to unlock when holding the phone. Improved general specs throughout the phone also feature better facial recognition, improving the facial + iris unlock element of the phone, enabling you to unlock the phone when focusing the front 8MP camera on your face. Expanding on this, Samsung's very own animation product 'AR emoji', allows you to create emojis around your face. This aspect means the Samsung S9 is really competitive in the market.
With its new camera, deemed to be the main additional element of the Galaxy S9, it offers an innovative super-slow-motion feature (960 frames per second) to really capture those breathtaking moments you want to make last that bit longer. Also excelling when using the camera in low lighted areas, the dual-aperture lens allows the rear 12MP camera to adapt to its darker surroundings, similar to the human eye, to really get the best out of your photography in all areas.
Offering the same large 5.8' or 6'2' (depending on model) infinity display screen as the previous Samsung model, the S9 allows you to watch back your videos or films on its high resolution QHD+ screen on those long journeys. Along with the stereo system like speakers, improved by Dolby Atmos, you can really immerse yourself into whatever you're watching.
If travelling the world or out locally with friends, it's vital your precious new gadget is insured and, via MoneyMaxim, we can offer you competitive prices through our site, comparing several different gadget insurance companies. Policies through our site will cover you in most scenarios, including theft, loss and damage.
The official release date in the UK for the Samsung Galaxy S9 and S9+ was 16 March 2018. Visit Samsung's official website today to purchase your new handset. If phone insurance for your Samsung is something you need, please get a quote via our site to compare competitive prices and make greater savings with multiple gadget cover.
Pictures courtesy of Google
This content was last reviewed on 13/08/2019