Sally Wilson
Sally is a key member of the MoneyMaxim editorial team. She is a frequent hire-car user and often goes on holiday with her family. With an interest in getting great value for money, Sally shares her hints and tips for travelling and insurance.
3 February 2016
The Year of the Monkey - celebrate Chinese New Year around the globe
Travel insurance will give you the freedom to explore the real China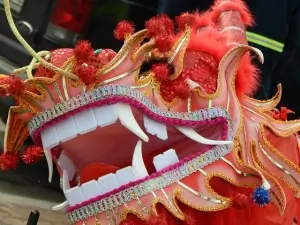 The Chinese New Year begins on February 8th 2016 and this year sees the start of the Year of the Monkey. People born in this year are said to be quick-witted, innovative and curious. Will your curiosity lead you to a holiday in China this year? Wherever you choose to spend your holiday in 2016, make sure you have travel insurance to cover all your needs.
China is a vast country and it would be almost impossible to see all of it in one holiday. There are some attractions which are particularly popular with tourists including the Forbidden Palace, the Terracotta Army, the Great Wall and the panda sanctuary in Chengdu. If you have never visited China before, it is definitely worth doing your planning. You can find many tips for visiting this sensational country and the Foreign Office is a good starting point.
Perhaps your holiday plans are taking you elsewhere this year - you could still take in a little taste of China when you visit any of these cities... New York, San Francisco, Singapore, Vancouver, Lima, Paris, Johannesburg, Manila, Melbourne or Havana. They all have a Chinatown!
The New York Chinatown stems from around 1880 by which time around 1000 Chinese workers had arrived in the city lured by the gold rush and the development of the railroad. Similar influxes of Chinese people in the other cities led to the emergence of all the Chinatowns around the world.
Right here at home we have one of the world's most famous Chinatowns in London. You can soak up the atmosphere of the Chinese New Year on February 14th - the biggest celebration outside of China itself. There will be decorations, dragons and dancing, with the parade down Charing Cross Road and Shaftesbury Avenue starting at 10am. There will be comedy and acrobatics in Trafalgar Square and fireworks to finish off the evening.
Travelling abroad, it is always handy to have a credit card - particularly in the event of an emergency - if you are looking to find a card that suits your particular needs we can help. And if reading this has made you curious to see more of the world our travel insurance could be just the thing you need!
Image courtesy of: Pixabay