Sally Wilson
Sally is a key member of the MoneyMaxim editorial team. She is a frequent hire-car user and often goes on holiday with her family. With an interest in getting great value for money, Sally shares her hints and tips for travelling and insurance.
17 February 2016
Travel your Way to Euro 2016 before it all kicks off!
Car hire in France - travel to the venue easily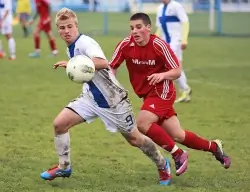 By the end of this month, the successful ticket applicants will find out which matches they will be seeing for the Euro 2016 tournament taking place in France this summer. If you manage to secure tickets, have you thought about the rest of your travel plans?
The matches are taking place across France from Toulouse and Marseille in the south to Lens and Lille in the north. Some people may be only going to one match, perhaps just for a day trip, but others may be visiting several of the venues. There are different options for getting there from taking your own car, going by coach or rail, or flying and possibly hiring a car.
Some of the stadiums are quite a distance apart so hiring car, particularly between a group of friends, could work out an economical option if you are watching more than one match. We found flights from London - Marseille return from 2-9 July for £87. Car hire for a compact car from Marseille airport can cost as little as £200 for that week. Car hire excess insurance can give you extra peace of mind and many of the policies will cover more than one named driver.
Car hire gives you the freedom to travel between the host cities with ease and explore a little in between. Why not make the most of your trip to France and sample some of the local culture? The venues all sit within reach of beautiful destinations such as the beaches on the south coast, the Alps or charming villages. Before you set out ensure you are familiar with driving regulations in France.
Whichever mode of transport you decide on, it is important to get your accommodation booked before you go. It is likely to be very busy and there is a risk you will not find somewhere to stay if you do not book in advance. The Euro 2016 host cities all have tourist information websites where you can find information about places to stay.
As with any trip away, make sure you are covered with travel insurance. An EHIC card is essential as it provides you with the same level of state medical cover as a French citizen but it will not cover all costs of medical treatment should you need it.
Lastly, if you were unfortunate and didn't get any tickets but still plan to travel to France to enjoy the atmosphere, that's great. But do not attempt to buy tickets at the matches. It is illegal to sell tickets outside venues in France, so those being sold there are almost certainly not genuine.
Image courtesy of: Pixabay