Sally Wilson
Sally is a key member of the MoneyMaxim editorial team. She is a frequent hire-car user and often goes on holiday with her family. With an interest in getting great value for money, Sally shares her hints and tips for travelling and insurance.
30 August 2016
Chaos amongst the car hire companies in Switzerland as new EU rules come into force
It is now even more important to inform your hire car company if you intend to take a hire car out of Switzerland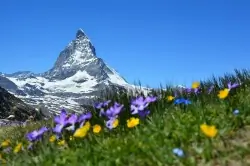 A new EU ruling came into force on the 1st May 2016 which affects EU citizens wanting to take their hire car across the Swiss border into another EU country. It is now against the law to take a non-EU plated rental car into an EU country unless you are driving it to your place of residence, using it for work or on the way out of the EU. The law applies to all non-EU countries but Switzerland's unique position in the centre of western Europe means this new ruling has caused confusion for many travellers. Some have turned up at their car hire desk only to be told that they cannot take their hire car out of the country.
At Geneva airport some people hiring on the Swiss side have been advised to cross to the French side to hire as French licence plates will enable them to continue their journey as planned. There have also been reports of customers signing a waiver, if they plan to leave Switzerland, meaning they will be responsible for any charges should the car be seized.
There does not seem to be any consistency to the advice given by the hire car companies. Many car hire websites do not even mention the issue. We queried whether cross border travel with a hire car picked up from Zurich was possible with several of the large car rental companies and received the following responses -
Sixt - Leave a note in reservations to say you want to cross the border and they will prepare a car with the right registration plate
Avis - Inform reservations if leaving Switzerland in order to be provided with a non-Swiss car (they also explained fully the reasons why)
Europcar - According to company policies hire vehicles picked up in Switzerland are allowed to be taken with no restriction to most western European countries.
Hertz - Say their policy has not changed and hire cars can still be driven out of Switzerland.
Hertz go on to say that you should inform them more than 24 hours in advance if you intend to spend more than 8 days out of the country with the car. This refers to a previous 8 day grace period for Swiss hire car cross border travel. But the Swiss finance minister, Ueli Maurer, confirmed that this had been removed on June 13th as a result of the new EU ruling.
The new ruling has been implemented as a protection against customs and car fraud but has unfortunately had a knock on effect on the car hire industry. As yet there has been no advice from the EU on how holidaymakers can avoid the problem.
If you are planning on hiring a car in Switzerland and intending to cross the border, it is very important you inform the hire car company when you book your car and follow their guidance. Some companies are able to provide you with an EU-plated car to enable you to cross the border without falling foul of the new EU rule.
This article will be updated in four months time to keep abreast of any changes in company guidelines.
MoneyMaxim are here to help with any queries regarding your car hire, for car hire excess insurance or for many of your other holiday needs. Call us on 0800 520 0699 and we will be happy to assist you.