Pay Monthly Car Insurance. No Interest Charges. Get a Quote today
Pay Monthly Car Insurance from one of the UK's leading insurers. Huge savings on the interest charges levied by other insurance companies.
Want to pay monthly for your Car Insurance? Why it's important to look beyond the headline price.
Many of us find paying for our car insurance in one lump sum is a stretch. With insurance being one of the major costs of owning a car it's unsurprising that we often turn to spreading the cost over ten or twelve months.
The good news however is that one of the UK's major insurers have launched a way of paying for your car insurance without paying through the nose for the privilege.
Aviva Car Insurance from one of the UK's most respected brands now comes on a pay monthly basis - with no added interest charges.
What's more is that for many drivers Aviva insurance is extremely competitively priced - Aviva insurance starts from just £17.50 a month (that's £210.00 a year). That's all 10% of Aviva's customers paid *.
Why Could This Save Me Money?
Almost all other car insurers charge extra if you want to pay monthly rather than paying upfront for your policy.
Whilst spreading your insurance premium over many months makes it more bearable than having just one large lump sum, when you set up the policy it does come with a significant downside.
Our research shows that, where insurers do allow monthly payments, most insurers will either charge you interest for spreading the cost, charge an extra fee or both. Many insurers do not offer the option to pay monthly, so you could be missing out on some great deals by limiting your car insurance search to monthly payment plans.
The different ways of paying for car insurance monthly explained
Monthly option from most car insurers.
Many car insurers will offer you two prices - an annual price and one that can be paid monthly - and. as can be seen from the example below, the difference in the total amount you pay can be significant.
In some cases the premium together with the interest that will be charged is spread across 12 months. Here is such an example.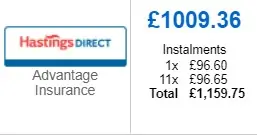 In other cases the premium is front loaded with a far higher initial premium but lower monthly payments.
The Aviva way
Aviva Car Insurance policies are only offered in a monthly payment version - and as a result don't charge any interest.
Their policies are never shown on comparison sites - Aviva prefer a direct approach - but their application form is one of the shortest in the market - so getting a price will only take a few minutes.
They are clearly looking not only to attract new customers but, with their guarantee that at next renewal you'll get the same or an even better price than if you were a new customer to Aviva**, they are looking to gain customers who will stay with them year after year.
Notes
10% of customers buying car insurance with Aviva from 1st August 2019 to 31st August 2019 paid this price or less for Aviva car insurance (excluding extra protections and courtesy car). The price you will pay depends on individual circumstances and cover chosen.
** Based on a new like-for-like home or car quote, calculated the same day as your renewal invite. Excludes offers to existing Aviva customers.
For a period during 2019 this policy was branded AvivaPlus Car Insurance.
This content was last reviewed on 07/11/2019