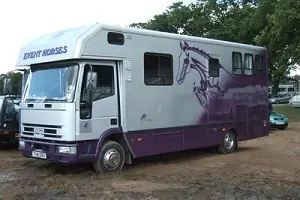 Self Drive Horsebox Hire Insurance - suitable for all rental businesses of all sizes
There is a wide variety of Horsebox Hire companies here in the UK - from individuals wanting to add a little extra income by hiring out their own horsebox to full time, fully-fledged firms offering multiple vehicles in many different sizes.
One thing that all these companies need when renting out their horsebox though is to be certain those hiring their horsebox are properly insured.
To help with this we offer a variety of different options, suited to help all horsebox hiring companies, and we detail some of the options below.
Established Horsebox Hire Business Insurance
For companies who have been hiring out horseboxes for at least three years and are now looking to review their insurance arrangements, we can introduce you to a leading rental business insurer who looks after many established fleets. They will expect that you have at least 5 vehicles (although mixed fleets are perfectly acceptable if they hire out other types of car, van or lorry too).

This solution works well for those who also offer horsebox rentals with drivers included.

They will discuss with you the best way to calculate your premiums - whether they are based on rental revenue, a day rate, or a rate per horsebox basis.

Training can be provided to your team who manage your rentals – this is so that they are well prepared to identify potentially fraudulent hirers - and the added benefit to you is that cutting down on claims will cut your insurance premiums too.

A smartphone app is provided as part of the service so horsebox renters can report an incident immediately one occurs.
Pro's - This is a flexible insurance option tailored around the way you operate your horsebox rental firm. They are specialists who have a portfolio of several hundred rental business customers, which means they can share best practice from across the industry with you.
Con's - This is not a suitable solution for those with less than 5 horseboxes (or other rental vehicles) - you need 3 years experience under your belt to be considered. This can either be that you company has been trading that long or that a senior member of the management team has been in the vehicle rental business for that period of time..
Arrange a quote by clicking the 'Get a Quote' button above.
New or Smaller Horsebox Hire Business Insurance
This option is more suitable if:
If your horsebox rental business is newly established or you have those with less than 5 vehicles in your fleet.

You want the flexibility of only paying for insurance when your vans or lorries are being rented.

It will be combined with a Motor Trade or Standard Vehicle Policy (to cover your horsebox(s) whilst not being hired out).

The insurance is organised by the hirer so you can be certain your horsebox is fully insured whilst on the road.
Pro's - Being a very flexible Pay As You Go arrangement this is ideal for those wanting to grow their horsebox business gradually without committing to potentially too much insurance.
Con's - As the insurance costs are calculated for each hirer on a case by case basis quoting a standard inclusive rate for hiring out your horsebox is more difficult. As insurance needs to be put in place for each rental there is a bit more administration work involved for each hire.
You will need to check and verify driving licences, through relevant services. You will also need to ensure that the licence covers the horsebox being hired out. To meet UK Anti Money Laundering legislation you will need to confirming the address and identity of the hirer.
To arrange a quote click the 'Get a Quote' button above.
Any Queries? Call us! Unlike other comparison sites we have people to help on hand! Just call us on 0118 321 8197. We'll be happy to help.
This content was last reviewed on 26/10/2021