MoneyMaxim Press and Media Centre
Welcome to the MoneyMaxim Press Room - press releases, interviews, comment and past publicity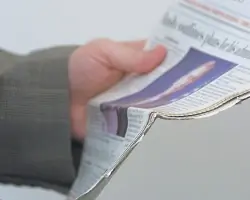 Find press releases, past coverage and details on accessing the MoneyMaxim team for insight, analysis or comment.
Mark Bower, Managing Director of www.moneymaxim.co.uk formed the company in 2008, with the aim of delivering an impartial and independent service both online and through telephone money saving specialists. During a career in both banking and online financial services on seeing the mistakes of previous downturns being repeated again this time round he decided enough was enough and decided to leave the industry to run a company the way he wanted it run - for the benefit of customers.
Well versed in all matters of personal finance, and with refreshing views on banking, personal insurance and the utilities (gas, electricity, mobile and home phones, broadband and pay TV) market Mark can happily provide insightful and thought provoking comments on all matters affecting personal finance and household budgeting. He is available for TV or Radio as well as providing press comment, and has long experience hosting financial debates, events and conferences.
For images and interviews contact:
Tony Longstaff on 01628 474280 or email: tony.longstaff@marketingdecisions.co.uk
Or for the MoneyMaxim In-house PR department please contact: Sarah Smith on 0118 3218 197 option 3 or email:
Recent Press Coverage
Martin Lewis's Travel Tricks This Morning via U.TV - 3rd Aug 2015
Hiring a holiday car? Read This! Good Housekeeping, August 2015
Martin Lewis: How to save a small fortune on your family holiday! TV Times - 15th July 2015
'I buy my own excess cover in advance and take my own satnav': How to save on car hire costs Financial Mail on Sunday - 6th July 2015
New rules for hiring a car come into force from today The Independent - 8th June 2015
Fix your mortgage before the lenders' limbo dance comes to a halt and rates are no longer falling This is Money/Daily Mail – 6th June 2015
Hiring a car at home or abroad? Watch this first: Martin Lewis via ITV This Morning - 5th June 2015
Driving licence changes: What you need to know Get Reading - 30th April 2015
Driving licence changes: How DVLA changes might affect you Liverpool Echo 28th April 2015
DVLA driving licence paperless change could mean car chaos this summer The Guardian - 25th April 2015
Drivers warned to beware of tax disc scam as fraudsters take advantage of confusion over new rules - Daily Mail 27th April 2015
DVLA driving licence paperless change could result in car chaos this summer Business Matters – April 28th 2015
DVLA changes: Paperless driver licences expected to cause holidaymakers car hire chaos - here's what you need to know Daily Record - 28th April 2015
Driving licence changes: How DVLA changes could affect you Wales Online - 28th April 2015
Holiday car hire warning: 'Muddled' changes to UK driving licences will cause chaos Daily Express – 27th April 2015
DVLA driving licence paperless change could spark travel chaos for Brit holidaymakers Mirror.co.uk - 27th April 2015
'I buy excess insurance online and it covers me if I lock the car keys in the boot': Don't let the car hire fees scupper your skiing break - Daily Mail - 14th December 2014
TV money saving expert Martin Lewis: Don't get stung by a holiday hangover - Gloucestershire Echo - 13th September 2014
Why I'll never buy car hire insurance again - Read this and save £60 (or much more) on car hire costs - Daily Telegraph - 19th August 2014
Holiday car hire: an essential guide to save you money - Daily Telegraph - 23rd May 2014
It's not just the press who are talking about MoneyMaxim!
Martin Lewis' money saving agenda - ITV - 12th May 2014
How to avoid the holiday car hire rip-offs: Look for 'fair fuel' arrangements and avoid sky-high excess waiver insurance fees - Daily Mail - 4th May 2014
Book holiday car hire now - STV - 28th April 2014
Seven Holiday Sins That Could Spoil Your Break and Cost You Dear - Daily Mail - 17th July 2013
Top 10 Savvy Sites for Frugal Holidaymakers - Womans Own - 24th May 2013
MoneyMaxim.co.uk Car Hire Insurance Comparison Search Engine Geared Up for 2013 - Yahoo - April 2013
Join the Club to Save Money on Power Bills - Sunday Times - February 2013
Hot Tips for Winter Trips - The Jewish Chronicle - 10th January 2013
Martin Lewis - You can do it up to 90 per cent cheaper via the MoneyMaxim.co.uk comparison site - Manchester Evening News - February 2012
How to save money on holiday in Spain - Daily Telegraph - January 2012
Three in four skiers don't have adequate insurance - Daily Telegraph - December 2011
New website vows to cut the cost of ski hire - Daily Telegraph - December 2011
Volcanic ash and your travel insurance - what you need to know if Katla erupts - Guardian - December 2011
For Happier Holidays - Car Hire - Good Housekeeping - July 2011
Crackdowns over hidden car hire charges will protect travellers on holiday abroad - Daily Mail - June 2011
Car Hire - a guide to finding the lowest rates - Daily Telegraph - 2nd March 2011
The Crafty Traveller: How to avoid getting burned by sneaky extra credit card charges - Mail on Sunday - 20th February 2011
Holidaymakers should beware excess charges on car hire - Daily Telegraph - 30th January 2011
Best Xmas smart-phone deals for children - Daily Mail - 8th December 2010
Top Tech Ways of Saving Money - MoneyMaxim Energy Monitor is the No 1 tip - Sunday Times - 14th November 2010
Smarter cover for smart phones as cost of replacing your nifty handset rockets - Daily Mail - 22nd September 2010
iPhone users face 600% increase in insurance charges - Daily Telegraph - 10th September 2010
Zath say 'Full Marks to MoneyMaxim' on launch of UKs first gadget insurance comparison service - Zath.co.uk - UK Technology Blog - 7th September 2010
Cut the Costs of Living Alone - www.knowyourmoney.com - 30th July 2010
MoneyMaxim recommended on GMTV - GMTV - 22nd July 2010
Martin Lewis recommends MoneyMaxim - MoneySavingExpert Newsletter - 14th July 2010
Scare tactics and hidden costs they use to bump up car hire - Daily Mail - 14th July 2010
The Getaway Car - Good Housekeeping - August 2010
Volcanic Ash Travel Insurance Policies Increase - moneyexpert.com - 8th June 2010
The Crafty Traveller: How to slam the brakes on runaway car-hire costs this summer - Mail on Sunday - 30th May 2010
MSN Guide - How to Save Money on Everything - MSN Money - 21st May 2010
MoneyMaxim launch the UKs first Car Hire Comparison Site - The Observer - 18th April 2010
Budget 2010 - Daily Mail - 24th March 2010
Dog Licenses - Daily Express - 17th March 2010
Press Releases
08.02.2012 Excess Insurance can cost more than car rental itself in key European destinations"
23.12.2011 Travel Money Debit Card Fees - What the changes mean to the average holidaymaker
23.10.2011 Savvy Money Savers Should Look to Monitor their Energy Company this Winter
20.09.2011 Chris Huhne's Energy Proposals already in place with the MoneyMaxim EnergyMonitor service
28.06.2011 Worry Free Car Rental Combining Hire and Hire Excess Insurance
24.03.2011 Nintendo 3DS and Apple iPad 2 Go On Sale: Don't Forget the Insurance
21.03.2011 Ofgem Review - Save Money on Energy
10.09.2011 Car Rental Firms Increase Excess Charges on Hire Cars
26.01.2011 Half Term Skiers Beware Excess Charges on Car Hire
17.01.2011 SLIM Your Gas and Electricity Bill with MoneyMaxim.co.uk
04.01.2011 New Website Launched to Fulfil All Your Ski Hire Needs in Europe
30.12.2010 5 Financial New Year's Resolutions Everyone Should Make
10.12.2010 Expert comment on npower increase to gas and electricity prices
03.12.2010 Cutting the Cost of iPhone Insurance
21.10.2010 Don't Be Left Out in the Cold when it Comes to Winter Car Hire
07.10.2010 October Car Hire Insurance Sale from MoneyMaxim
14.09.2010 £567m of Possessions at Risk as Students Continue to go Uninsured
10.09.2010 O2 customers report iphone insurance shock
02.09.2010 UKs First Gadget Insurance Comparison service Launched
25.06.2010 Essential Travel join the MoneyMaxim - the UKs First Ever Car Hire Insurance Search Engine
16.06.2010 Competition in Car Hire Insurance drives prices down
07.06.2010 Shop Around for the Best Deals on Volcanic Ash Cloud Travel Insurance
26.05.2010 Odyssey Car Hire Insurance the Latest Addition to the UK's First Ever Car Hire Insurance Search Engine
19.05.2010 Car Hire Insurance News: Car Hire Companies Failing Holidaymakers
19.04.2010 moneymaxim.co.uk launch UKs first Car Hire Insurance Comparison Site
30.03.2010 moneymaxim.co.uk comment on uSwitch findings on High Street Shopping
22.03.2010 Public Urged to Switch & Compare Energy Prices
15.03.2010 Credit Card Proposals a Step in the Right Direction
This content was last reviewed on 14/12/2014