Campervan and Motorhome Hire Insurance
Compare campervan & motorhome hire insurance policies. From just £8.45 per day or £72.98 annually!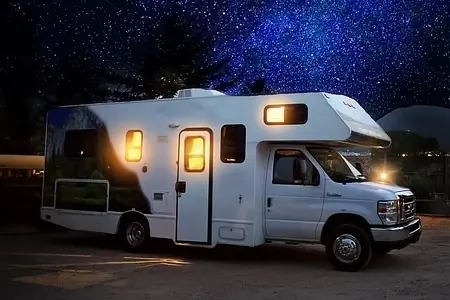 Why you might want Campervan or Motorhome Hire Excess Insurance?
When hiring a motorhome or campervan in the UK or Europe you almost always find that it will be supplied with insurance (that's covering damage, theft and third party claims) - but also has a large excess that you are responsible for.
There are good reasons for this - the company hiring you the van want to make sure that you have an incentive to take good care of it - they really don't want it off the road or not looking pristine when the next hirer comes to pick it up.
Also a larger excess helps to keep their insurance costs down - which in turn means more competitive rates for you.
However these excesses do make users nervous and can ruin even the shortest break - we have seen cases of users hiring a motorhome for a weekend at the affordable price of £250 only to clip a gate post and see the total cost spiral up to £1000 or more. Not fun.
The solution? Campervan and Motorhome Excess Insurance.
How does Campervan and Motorhome Excess Insurance work?
Basically it is a reimbursement insurance policy that covers you should you be faced with a bill from your hire firm because you have damaged their vehicle.
You have to pay the motorhome or campervan hire firm for the damage (up to the excess you are responsible for), and then send off the bills and associated paperwork and your chosen insurer will reimburse you.
The policies don't just cover the excess, but other risks - such as punctures, chipped windscreens, roof and underbody damage - areas often excluded from hire companies insurance cover.
Even putting the wrong fuel in the van or losing the keys can be covered.
Reversing and parking accidents are insured by all policies available through the Moneymaxim service. Some hire firms offer extra cover but then exclude reversing accidents or parking incidents. That is a real risk as many of us are unused to manoeuvring vehicles of this size.
Its easy to get a quote and to be able to compare policies. Just click the button above and pop in your details.
What is the difference between different Motorhome and Campervan Hire Excess Policies?
There are two types of policy currently in the market - daily policies, typically covering excesses up to £2500, but which have a excess themselves of £350. This means that if you did suffer a puncture you would unlikely to be able to claim as the amount would be less than the excess on the policy. Also if your excess was say £600 you would only be able to claim a maximum of £250. They are great though if you have a higher excess.
The another type is an annual car hire policy, but one which allows you to upgrade the policy to cover your motorhome or campervan as well. The optional extra increases your cost, but this policy can be great value if you are hiring the van for a week or more, are intending to hire another car or motorhome again in the next twelve months, or just don't want an excess - as the standard version of the policy does not have one.
The slight downside is that the policy limit for motorhomes is only £1000 - but that will cover most of vans hired in the UK and many in Europe too.
What else should I do when thinking about buying a campervan or motorhome excess policy?
Before you buy the policy read the terms and conditions relating to your motorhome hire agreement and, if in any doubt as to what insurance is included, clarify the situation with the motorhome hire firm. Ideally do this before you actually sign up for renting the vehicle as from that point forward you are totally tied into the terms and conditions.
Check that the type of van you are hiring is covered by the policy. Different policies have different rules (they are shown in the details section on the MoneyMaxim results page once you have run a quotation) but policies are available which cover vans less than 7.5T in weight, less than 20 years old and with a maximum value of £100,000.
Once you have bought the policy read the section on the insurers website relating to claims - the process is not difficult but it will mean that is an incident does occur you know what to do and what paperwork you need to collect.
Be aware that interior damage is not covered - so be carefully when cooking, eating and drinking.
Buy the policy at least a week before you hire if you can. Its surprising how many hirers have a query, and that will allow you to contact us in good time before you pick up the van. You can actually buy policy right up to the time you collect the vehicle (the policy purchase must be timed before the time on your hire agreement) but its far less stressful if you do it in advance
How much does motorhome hire excess insurance cost?
Motorhome and Campervan Hire Excess Insurance Prices
| Policy Type and Term | Price from |
| --- | --- |
| UK resident renting within the UK or Europe Per Day Cover | £8.45 |
| UK resident renting within the UK or Europe Annual Cover | £74.98 |
| UK resident renting outside Europe Per Day Cover | £9.15 |
| UK resident renting outside Europe Annual Cover | £94.98 |
Prices correct as at 7th June 2022
Still have queries - please don't hesitate to contact the MoneyMaxim team who will be happy to provide assistance.
This information is based on journalistic investigation and research. It is not financial advice. Any information should be considered in regard to specific circumstances. Any suggestions followed up are done so at your own risk and your own research is key.
This content was last reviewed on 07/06/2022