Carehome Insurance Compared - Find Great Cover for your Residential Home
Do you own a carehome? If so, insure your business here .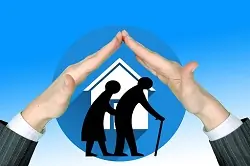 Whether you have just started up your business or are looking to reduce costs at your established carehome, we can help you find a competitive deal on care home insurance.
By spending just a little extra time you can build the insurance cover you need to protect you and your business from financial hardship should an unfortunate event occur.
Ask the right questions to find the right business insurance for your carehome.
Our simple service through our partner allows you to get started with answers to just a few straightforward questions. Once you then start speaking to the insurers you can drill down on the finer details. As a business you will need additional cover not found on normal home insurances
Premises Insurance - Protect your buildings from fire and flood as well as damage, theft or loss of contents.
Public Liability Insurance - This covers you financially should an accident occur that is deemed the responsibility of your business.
Employer's Liability Insurance - This covers the cost should one of your employees be injured while carrying out their job.
We contact a panel of specialist carehome insurers so that you can find a policy that gives you great cover at an affordable price and peace of mind!
Some insurers may charge for additional cover, however, taking out an insurance policy which covers you for a wide variety of eventualities will save you stress. And, if an incident does occur, you will save a lot of money. Please remember to read the policy wording and terms and conditions of your insurance. If you do ever need to claim on your policy then you will know exactly what you're covered for.
This service is operated on our behalf by Seopa Limited.
This content was last reviewed on 22/03/2022