Coach Insurance - Compare Prices for your Vehicle or Fleet with MoneyMaxim
Find specialist coach insurance with MoneyMaxim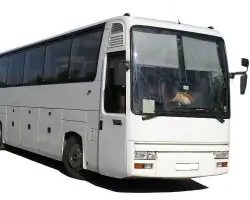 If you own a coach, bus or minibus it is important that you get it insured. Coaches need different insurance cover to cars, even if you are only using it for personal use, therefore it is vital to get expert advice.
Most coach insurance firms will offer single, multi-vehicle or fleet insurance policies. We can help you find a great deal to suit your needs. The panel of specialist insurers we work alongside have policies which cover a variety of needs, ensuring you get a policy which suits you. Just click on the Get A Quote button above and you will be on your way to finding competitive coach insurance quotes.
Although most insurers will have individual rates and will tailor-make your policy, a good place to start is by evaluating what kind of cover you require.
Motor insurance - which will be a similar policy to if you were insuring your car

Property insurance - covers any possessions on the coach, such as televisions

Liability cover- insures you if harm comes to your staff or the public due to a fault of yours or your staff
Things to consider when insuring your coach(es).
When starting your search for Coach Insurance it's well worthwhile taking time out to consider all the features you need to cover your use of the coach. If you don't, you run the risk of buying cover you don't really need or finding you are not covered for a risk that is required. Amending a policy to include extra cover later normally attracts administration charges.
Some of the features you can consider are:
How many drivers do you want to insure for your coach?

How many coaches do you need to insure? Some insurers will offer discounted prices for multi-vehicle or fleet policies.

How many passengers can fit in your coach?

Will you hire your coach out to the public? If so how often?

What is your coach worth?

Will you require employers and public liability?
This service is operated on our behalf by Seopa Limited.
This content was last reviewed on 20/04/2022