Holiday Home Insurance - Compare Prices with MoneyMaxim
Holiday Home Insurance can be found fast with us. With a wide range of policy upgrades and specialist options available.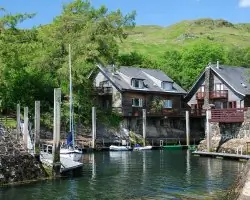 If you are looking for holiday home insurance we are here to help. Whether you have a property here in the UK or in France, Spain, Turkey or Cyprus (or indeed wherever your second home is located) we can offer a range of ways for getting competitive quotations.
The fastest way is to click our 'Get a Quote' button above and to complete one form to get your holiday let insured fast. Your application will be assessed by a panel of insurers to see if they are able to help you. Some won't (as they only cover certain countries, types of properties, maybe only look after rented properties or those used privately etc.) but others will be vying to have your business.
It is possible may be contacted by just one insurer, but more frequently two or three. Insurers who are represented on our panel include: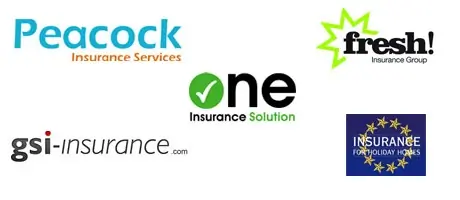 Why holiday home insurance is essential?
As an owner of a second home, you need to protect it in the same way that do your principal home. in fact potentially more so as it may well be left vacant for periods of the year. Standard home insurance policies tend not to holiday homes due to the different risks faced, but specialised holiday home insurance policies have been developed are available to protect your second home.
Due to the increased risk of burglary when properties are empty normal home insurance cover fail to cover second homes if they are to be unused for periods of 30 days or more. But it's not just theft that is an increased risk - a frozen or broken pipe potentially will go undiscovered for longer meaning water damage is far more costly to repair.
How much does holiday home cost?
For the reasons expressed above second home insurance tends to be slightly more expensive than a standard home insurance policy - however this does not mean it is unaffordable. And using our service to compare holiday home insurance means you will potentially be able to receive multiple quotations within a very short period of time - enabling you to negotiate a really great price.
How does holiday home insurance differ from normal home insurance?
In most ways second home insurance is very similar to your own home cover - it includes buildings and contents insurance, and is particularly important if you have a mortgage on your holiday home - or are relying on it as an income source for your retirement as it will mean you will be covered should a catastrophic event take place.
There are however elements that go further than your home policy.
If you rent out your holiday home to other people, there are other risks to be aware of which can be covered by an extension known as holiday lettings insurance - which extends the normal features of a home insurance policy to include cover for the increased risks that result from having people you don't know renting your second home.
This include:
Loss of Income Insurance: If your holiday home becomes unrentable due to an insured event this cover will compensate you for lost earnings should you need to cancel bookings.

Accidental Damage: Covers damage caused by your tenants and guests in your holiday home.

Alternative accommodation: Reimburses you if have to pay for alternative accommodation for your guests as they cannot stay in your second home.

Public liability insurance: Covers not just the damages you might need to pay someone if they are injured or dies whilst staying in your holiday let but also legal fees if you need to defend yourself in court.

Employers' liability insurance: Its highly likely that you will be employing others to help manage your holiday home. A local property agent might visit, a cleaner or gardener might work there - you have a legal responsibility to ensure you are properly insured for anyone you employ.
Whichever policy you decide on take time to read your policy document carefully. Think about your second home, how you use it and check it does fully cover you.
How does holiday home insurance abroad differ?
As we have a wide range of insurers available through our panel we have companies that will cover holiday properties in many other countries around the world. So we do the searching for appropriate companies rather than you having to check the countries covered by different insurers.
Do be aware though that local restrictions might apply - for instance older proprieties in some countries such as Italy, Croatia or Greece may not be covered for earthquakes.
As an alternative you could find a local insurer but if you do make sure you are sure of exactly what you are buying, and get a translated copy of the policy if you need it.
How do you keep the costs of holiday home insurance low?
Our top five tips for reducing the cost of your second home insurance are:
Ensure you have good security - ideally with a monitored burglar alarm

Get a combined building and contents policy to cover your holiday let - this is normally cheaper than two separate policies and s also easier to manage should you need to make a claim.

Make sure your second home is in good repair. Have an annual check undertaken before the close season when it is likely to be empty for a while.

Accept a higher excess - as with any other insurance policy your holiday home insurance policy will have an excess – the first part or any claim that you are responsible - if you take a higher excess - the premium is normally lower - but to make sure that that excess is affordable in case you do have to make a claim, you should be able to get a discount on your premiums.

Review your premiums regularly.
Similar to any form of insurance its well worth using a service such as the Moneymaxim holiday home insurance comparison service regularly to check that you are still with the most competitive insurer.
How do I get a second home insurance policy?
Click on the Get a Quote button above, and pop in your details. We will pass these to a number of the countries leading second home insurers - and those who can offer for your type of home will make contact with you and offer you a price for a policy.
This service is operated on our behalf by Seopa Limited.
Image courtesy of: Patrick Mackie
This content was last reviewed on 20/04/2022