Ice Cream Van Insurance - Compare with MoneyMaxim
Find specialist ice cream van insurance with MoneyMaxim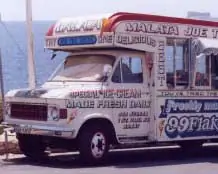 When looking for ice cream van insurance we would highly recommend using our partners to access a wide range of quotations. Ice cream van insurance is a very specialised area, and there are a number of potential ways of arranging your policy which can make a major difference to the premiums charged.
The panel of ice cream van insurers we work alongside will offer you quotations tailored to the type of use you require. They can also take advantage of different features some insurers offer, if they are felt to be of benefit to you.
Without seeking quotations from a range of companies, you may not be aware of what benefits are out there, as often a single company or broker will only make you aware of the details their particular policy offers. Ice Cream vans have specialist equipment and it is worthwhile speaking to insurers who understand what cover may be needed.
To get the widest choice of quotations simply fill out your details below, or alternatively, if you prefer, call for a quote over the phone. Companies able to offer telephone quotations include Autonet (0800 080 5295 quoting reference 9032) or Insurance Choice (0843 2270120).
Features you may wish to ask your insurer about when taking out ice cream van insurance policy could include the following:
Mirrored no claims bonus (means an existing no claims bonus on a car or van can be used when taking out ice cream van insurance)
Are Fixtures & Fittings fully covered?
Is full Fire Cover provided?
Are discounts available if a Tracker has been fitted?
Are there discounts for Datatag fitment?
If you are a member of a trade body, can your policy costs be reduced?
You can choose between Comprehensive, Third Party Fire & Theft or Third Party only cover when taking a policy, but do check out the saving you are making if opting for a Third Party policy - often they are surprisingly small.
This service is operated on our behalf by Seopa Limited.
This content was last reviewed on 19/04/2022