Jetski Insurance - Compare Prices with MoneyMaxim
Find cheap Jetski insurance quotations with MoneyMaxim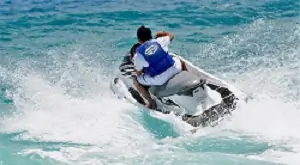 Just bought a jetski or looking for a better deal on insurance for your current one?
Protect it today by using our comparison service to find a policy that suits you at a price that is bound to make you happy.
When looking for jetski insurance it's worth considering the following:
How experienced are you?
You do not need a license to use a jetski but the Royal Yachting Association (RYA) run Jet Ski proficiency courses at various centres across the UK. Holding this sort of qualification could reduce your insurance premiums.
Will you be using your jetski for competitions?
Some insurance policies reduce claims if you are racing. Some will include cover for race entry fees if adverse weather causes cancellation.
Do you want cover for your safety equipment?
Check the limits of cover that any potential policy has for personal belongings and kit.
Planning for trips abroad?
European cover is often, but not always a feature of Jetski insurance. If you think you might need cover in Europe, it will almost always be cheaper to find a policy offering it from the start rather than adding it part way through the year, when policy amendment fees will apply.
How old is your jetski?
Some Jetski insurance policies have age restrictions on the boats they cover. If yours has been well loved then make sure it will be covered by your chosen policy.
Ready to get a quote? Just click the button above and your search will be underway in minutes.
It's quickest to request a quote online
We approach insurers either directly or through brokers. This service is operated on our behalf by Seopa Limited.
This content was last reviewed on 26/09/2023