Kitcar Insurance - Compare Prices with MoneyMaxim
Kitcar Insurance needed? Find competitive quotes for hobbyists, projects requiring buildup cover or sports enthusiasts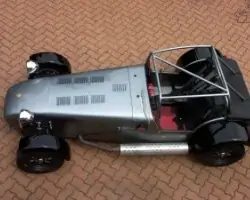 Kit car owners often find they have limited choice when it comes to insurers who are willing to cover their kit-car. General insurers often steer clear of insuring kit cars. It's a specialist area as different kit car drivers use their vehicles for very different purposes and the cars themselves can differ widely.
It is understandable that insurance might be higher for someone who wants to use their kit car for off road sports, but those questions just don't get asked on straightforward comparison sites. We therefore collect a few details from you and then pass them on to our specialist insurance broker who will then contact you to tailor insurance to your particular requirements.
It doesn't matter whether you are driving your kit car all the time, only on sunny Sundays, or participate in track events, our specialists will find you a great range of competitive kit car insurance quotations.
This service is operated on our behalf by Seopa Limited.
This content was last reviewed on 06/10/2021