Mechanic Insurance - Compare Prices for your Motor Mechanic Business and Find Competitive Quotes
How much does mechanic insurance cost? What insurance is needed if you are a mechanic?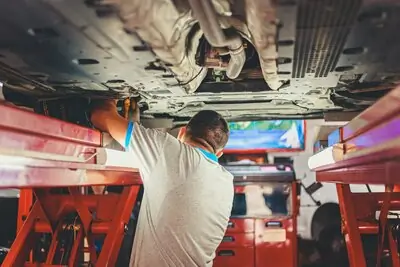 Whether you run a mobile mechanic business, work on private property or own a repair shop or garage, we are here to help.
Motor mechanic businesses come in all shapes and sizes. Our cars are very important to us - for getting us to and from our place of work to taking us away on holiday. Your mechanic business is what keeps us on the road. It is important that you are able to protect your business against unforeseen events. If you are looking for cheap insurance for your mechanic business come to us.
How can we help find quick and easy quotes for a mechanical repair business?
We work alongside a great panel of insurers all interested in helping your mechanic business. By asking for a quote you will not only get great quotations from a range of insurers and brokers, but also benefit from their vast knowledge of insuring similar mechanic and motor repairs businesses.
Fill in the simple form below and we will get on the case straight away.
What insurance do I need for my mechanical repairs business?
When you are looking to insure your mechanic, motor repairs business or garage you will be presented with a multitude of choices. You must have Employers' Liability Insurance if you employ any staff.
Do also consider whether cover in the following areas would be sensible.
Premises Cover - If you work within a garage or outbuilding

Public Liability Insurance - If anyone makes a claim against you as a result of work you have carried out

Cover for your tools - These are essential to your business and if stolen, they can cost a large amount to replace

Driving other vehicles - you may need to drive customers' cars, for example up on to a ramp. This is sometimes known as Road Risk Insurance

Legal Expenses insurance covering the costs of legal action should you have disputes with suppliers, or staff employment issues.

'All Risks' insurance covering business property you take from your premises. Remember items such as a laptop you might carry between your home and workshop.
Why compare quotes for a motor mechanic business?
By using our comparison service you only need to enter your details once and you can be reassured that those companies that quote want to help you with your business.
If you are new to the mechanic business, by talking to one of the companies about their quote, you can tailor it to your requirements and make sure you have the ideal insurance for your motor repairs business.
If you operate an existing garage or repair business, renewing with your current provider can feel like the simplest option but you are likely to be missing out on a great deal. Compare today to see how much you could be saving on your mechanic business insurance.
Peace of mind...
A few minutes thought before committing yourself to a mechanic insurance policy can significantly reduce your stress levels at a later date should an incident occur. There are a number of risks involved in a motor mechanic business including fire, theft and accidents, and you have responsibility for your customers' vehicles - finding the right insurance can ensure your business keeps running if something goes wrong.
This service is operated on our behalf by Seopa Limited.
Image courtesy of: Enis Yavuz on Unsplash
This content was last reviewed on 10/05/2022