Motorhome Hire Insurance
Compare motorhome hire insurance policies. From just £8.44 per day or £75.98 annually!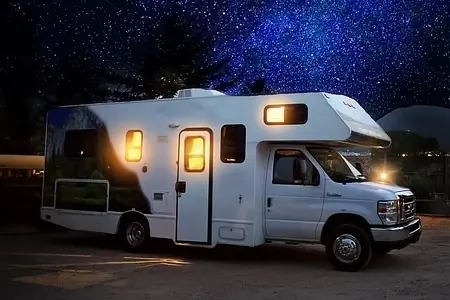 What is Motorhome Hire Excess Insurance?
When you rent a motorhome it's pretty much certain that it will be provided with Collision Damage Waiver and Theft Protection (which cover the motorhome itself) and Liability Insurance (which covers your liability to others in the case of an accident). Sometimes this is collectively called Comprehensive Insurance.
However, you will almost certainly find that you are still liable for a fairly hefty bill if you are involved in an incident. This is because of you will still be liable for the excess - the first part of the bill for any damage.
Motorhome hire excess insurance can reimburse you up to the full excess that you are liable for - the amount covered depends on the policy chosen. A CDW policy or Comprehensive insurance must be in place with the motorhome hire for these policies to work as it is only they excess you insuring with them - not the whole value of the vehicle.
Motorhome hirers should therefore check carefully the terms and conditions on their motorhome hire agreement and, if in any doubt as to what insurance is included, clarify the situation with the motorhome rental company. Do this before you actually sign up for renting the vehicle as from that point forward you are legally bound by the terms and conditions.
Motorhome hire excess insurance is available as a daily policy or an annual policy. The annual policy available is in fact an annual car hire excess insurance together with an optional upgrade which provides motorhome cover.
How much does motorhome hire excess insurance cost?
Motorhome Hire Excess Insurance Prices
| Policy Type and Term | Price from |
| --- | --- |
| UK resident renting within the UK or Europe Per Day Cover | £8.45 |
| UK resident renting within the UK or Europe Annual Cover | £75.98 |
| UK resident renting outside Europe Per Day Cover | £9.15 |
| UK resident renting outside Europe Annual Cover | £94.98 |
| Non-UK resident renting within the UK or Europe Per Day Cover | £17.00 |
| Non-UK resident renting outside Europe Per Day Cover | £18.78 |
Prices correct as at 27th September 2023
Prices can vary depending on your country of residence.
Who can motorhome hire excess insurances cover?
Drivers aged between 25 and 84.

Residents from most Western European and EEA countries including the UK

Up to 6 named drivers (9 on annual policies)
What motorhomes can be covered by a motorhome hire excess insurance policy?
What cover is provided by motorhome hire excess insurance?
The following areas can be included but levels of cover vary between policies so compare providers to find the best motorhome hire excess insurance for your trip.
Motorhome Insurance - Common areas of concern
Insurance Excess
As with your car insurance at home, Motorhome Hire Insurance policies have an excess (which is the amount you are liable for before your insurance policy or waiver starts paying up). Motorhome hire companies see them as a useful way of encouraging you to be careful with their vehicle, as well as avoiding the need for them to make small insurance claims.
However to many renters they are a potential holiday wrecker, as the excess can be £500, £1000 or even more. Therefore excess insurance is made available either through the rental firms or through independent insurers such as those featured on MoneyMaxim.
Excess Insurance - What to check for
We have seen examples of many excess insurance policies around the world and the following are some of the key features to watch out for.
The level of excess reduction - Policies sold through MoneyMaxim reduce the excess to £350 or nil, whilst some hire firms only reduce it to £500.
Exclusions - Whilst MoneyMaxim offer policies which cover the tyres, wheels, glass, underbody roof and even lost keys, most policies bought from rental firms don't. Bearing in mind there is a lot of glass in a motorhome windscreen, that can mean you are leaving yourself open to a pretty big bill if the windscreen is chipped. The tyres are expensive too!
The interior of the vehicle - Do note that most policies exclude damage to the interior of the vehicle - so do look after your motorhome!
Reversing and parking accidents - Some policies (although not those offered by MoneyMaxim) exclude reversing accidents or parking incidents. That is potentially dangerous as many of us are unused to manoeuvring vehicles of this size.
Liability Insurance
Unfortunately stand alone Supplementary Liability Insurance is not, as far as we are aware, available in the UK. It is also not part of the cover offered on policies from Worldwide or Questor meaning the limit of your liability cover is that offered by your motorhome rental firm.
In many cases this is not a problem but we are regularly approached for such policies by those renting in the US (especially Alaska), where the minimum liability cover rental firms have to provide is determined by the state and can be woefully inadequate.
This information is based on journalistic investigation and research. It is not financial advice. Any information should be considered in regard to specific circumstances. Any suggestions followed up are done so at your own risk and your own research is key.
This content was last reviewed on 27/09/2023