Refrigerated Truck Insurance - Compare Prices for your Lorry or Van with MoneyMaxim
Refrigerated Truck insurance with MoneyMaxim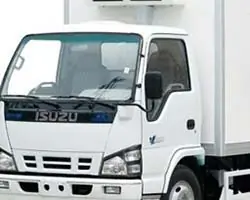 Whether you need insurance for a large articulated lorry or a smaller van you use to go to and from the cash and carry, we can help. This service offers quotations for any sized refrigerated vehicle, whether as a single van or as part of a fleet.
Why Refrigerated Van Insurance?
It doesn't matter if your van is a compact car derived vehicle, a panel or box van or a large HGV, if it's fitted with insulation and a chiller unit device, you will need specialist insurance cover. There is more that can go wrong with a refrigerated truck as it is a specialised vehicle with fittings and mechanics that are not found on your standard van or truck.
There are only a few insurers willing to cover vehicles with the ability to store cold products, and many of those are easily accessible via this service. The market is limited as fewer insurers are willing to underwrite the additional risks associated with such vehicles, which tend to be higher value given the cost of replacing the insulation and refrigeration units.
How can I get quotes for Refrigerated Truck Insurance?
To get the widest choice of quotations, simply fill out your details via the green button above, or alternatively, if you prefer, call for a quote over the phone. Companies able to offer telephone quotations include Autonet (0800 080 5295 quoting reference 9032) or Insurance Choice (0843 2270120).
**How to get the best quotes for Refrigerated Truck Insurance?
Firstly take time out to list all the possible uses of your refrigerated van, lorry or truck. If you are not going to take your van out of your local area, you don't need European cover. If you are only using your van or lorry to deliver goods from your shop to local residents, you don't need haulage cover. On the other hand, it's a good idea to consider uninsured loss cover so if you need to rent a replacement vehicle as yours is off the road due to a non fault incident it won't be expensive.
This service is operated on our behalf by Seopa Limited.
This content was last reviewed on 11/04/2022