Restuarant Insurance - Compare Prices with MoneyMaxim
Run a Restaurant? Need Insurance? Insure your business with us today.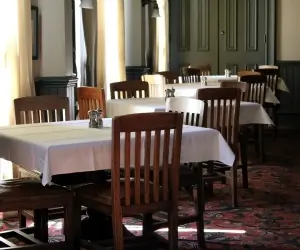 The panel of insurers we are partnered with cover restaurants of all types with all different requirements, run a quote today to get a high level of coverage without a huge price tag.
Policies can help protect you, your restaurant and your staff against a wide range of risks including building and contents cover, business interruption insurance, cash on premises cover and public liability insurance.
A massive advantage of using this service - rather than approaching just one broker or insurer - is that you will benefit from talking to a wider range of specialists and understand your restaurant insurance options and the different policy add-ons available.
Add in your details below and we will select from a panel of over 35 insurers - those who focus on your type of business and will be able to assist you in your search - and ask them to provide their best quotations for you.
Restaurant Insurance - Our Guide to Asking the Right Questions
Buildings Insurance: This insurance covers the structure of the property against a variety of risks, including flood, fire and storm. Buildings Insurance gives you peace of mind that, if your property is damaged, the repair or rebuild costs are covered.
Contents Insurance: Covers the items you own on your premises, such as carpets, furniture and electrical products.
Public and Employers Liability Insurance: Covers you if you are found liable for injury to an employee or member of the public.
It is also worth considering additional cover:
Restaurant insurance will obviously cover the basics such as the stock and business contents and buildings insurance, should you need it, but you may want to consider the option of extending the cover to include more, so should anything happen you can be at ease as you have the cover for it. The combination of these policies cover you for theft, malicious or deliberately harmful damage, gas and other explosions, natural disasters and flood damage. You also have the option in most cases of extending your policy to include accidental damage.
You do need to be aware that many policies will have exclusions, so read the policy's terms and conditions and accompanying paperwork carefully. It is important to read the policy wording and conditions prior to purchasing a policy not just before making a claim!
It is, however, well worthwhile asking insurers as to changes you might make to reduce premiums. Additional security or shutters might be a worthwhile investment, but you won't know if you don't ask.
Consider the following optional extras as well if you decide you want fuller protection:
Legal Expenses insurance - covering the costs of legal action should you have disputes with suppliers or staff employment issues.
'All Risks' insurance - covering business property you take from your premises. Remember items such as a laptop you might carry between your home and restaurant.
Goods In transit - for items you are delivering to customers or moving between premises.
Cash Cover - to cover the risk of cash being stolen from your premises or on its way to the bank.
Loss of alcohol license cover - to protect you against any potential loss of income should you lose your alcohol licence.
A few minutes thought before committing yourself to a policy can save you concern and heartache at a later date and leave you confident that you can relax in the knowledge that you are fully protected.
This service is operated on our behalf by Seopa Limited
This content was last reviewed on 11/10/2021