RV Hire Excess Insurance
Start your search for an RV excess insurance policy at MoneyMaxim, deals starting from £8.44 a day!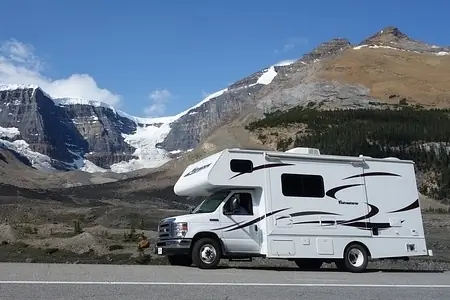 What is RV Hire Excess Insurance?
RV (Recreational Vehicles) is a term used widely in the US and Canada for what we in the UK would more usually term a motorhome. Unlike car rental in the US RV hire agreements almost always include insurance, normally consisting of Collision Damage Waiver (which covers the RV itself), and Liability Insurance, which covers your 3rd party liability. Given the size of the vehicle you will be renting and the fact most renters are less used to driving one we consider adequate insurance a must.
RV hire policies frequently have a large excess (the portion of any claim you remain liable for) - most through our service are £350 but more often much higher.
Before arranging your RV hire do check your agreement and its terms and conditions carefully. If you find you are unsure about any of the details, refer to your RV rental company. Do this before you sign on the dotted line as from that moment on you are bound by the company's terms and conditions.
RV hire excess insurance is available as a daily policy or an annual policy. The annual policy available through iCarhireinsurance is actually an upgrade to their standard car hire excess insurance.
How much does RV hire excess insurance cost?
RV Hire Excess Insurance Prices - including our exclusive discounts
| Policy Type and Term | Price from |
| --- | --- |
| UK resident renting within the UK or Europe Per Day Cover | £8.45 |
| UK resident renting within the UK or Europe Annual Cover | £74.98 |
| UK resident renting outside Europe Per Day Cover | £9.15 |
| UK resident renting outside Europe Annual Cover | £94.98 |
Prices are correct as at 7th June 2022
Prices for RV hire excess insurance can vary depending on your country of residence.
Who can RV hire excess insurances cover?
Drivers aged from 25 up to 84

Residents from the majority of Western European and EEA countries including the UK

Up to a maximum of 6 named drivers (9 on annual policies)
What RVs can be covered by an RV hire excess insurance policy?
Vehicles up to 7.5T in weight

Vehicles up to 20 years old

Vehicles with a maximum value of £100,000
What cover is provided by RV hire excess insurance?
The following areas can be included but levels of cover differ between policies so compare providers to find the best RV hire excess insurance for your trip.
RV Hire Insurance - general guidance
RV excess waiver policies vary considerably from one rental firm to another. Some leave a lot of liability as the responsibility of the renter - and not just the excess - so do be really careful when reading the documentation - watch out for the following:
Find out whether the cover offered reduces or removes the excess. Policies sold through MoneyMaxim reduce the excess to £350 some even to nil, whilst some hire firms only reduce it to £500. There are policies which remove it altogether, although we have found that many of these have other limitations which make the overall cover offered less valuable.

Exclusions - RV excess policies available through MoneyMaxim cover lost keys, tyres, wheels, glass, underbody and the roof. You will find almost all RV rental firms policies exclude these items, and taking their excess waiver policy does not make any difference in the exclusions. Chipped windscreens are actually the most common reason for claims on excess waiver policies (Source: Questor Insurance) and a RV windscreen is a very pricey item to replace. Bearing in mind the costs of replacing a windscreen if it is chipped, a tyre if it's punctured or the cost of roof damage, this is highly valuable cover. Policies also cover lost keys.

Inside your RV - Most policies including those from Questor and Worldwide exclude damage to the interior of the vehicle - so do take care when cooking in your RV!

Parking or reversing accidents - Many policies (not those issued by MoneyMaxim) exclude reversing accidents or parking incidents, especially if you are not using a banksman. This is an exclusion to be wary of as many of us are unused to manoeuvring vehicles the size of an RV.

After an accident you can remain liable for reimbursing the RV Hire company if the RV is damaged and can't be hired out immediately you hand it back. If, for arguments sake, it takes a week to repair the RV you could be paying the rental charge they are losing from the next hirer.
Supplementary Liability Insurance
Unlike Car Rental insurance, independent Supplementary Liability Insurance policies for RVs are not, as far as we are aware, available in the UK. In many places this is not an issue as the rental firms standard liability cover will be adequate.
We are however regularly approached for top up policies by those renting in the US (especially Alaska), where the minimum liability cover rental firms have to provide is determined by the state, and can be woefully inadequate.
This information is based on journalistic investigation and research. It is not financial advice. Any information should be considered in regard to specific circumstances. Any suggestions followed up are done so at your own risk and your own research is key. Prices and features checked and correct as at 7th June 2022.
This content was last reviewed on 07/06/2022