Compare Van Hire Excess Insurance - Excess Waiver and Reduction Policies from just £5.12 a day. Save 60%** and get wider cover
Compare van hire insurance policies for UK and Europe in one easy search.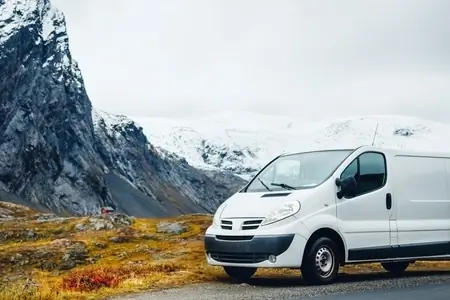 Van Hire Excess Insurance Explained?
When you rent a van, you will commonly find the hire already includes both Collision Damage Waiver (which covers the van itself) and Liability Insurance (which covers your liability to others should you have an accident involving a third party).
If you do have an accident, however, as there is usually an excess on the Collision Damage Waiver, you could still have a large bill to pay at the end of your hire. Van hire excess insurance can reimburse you up to the full excess that you are liable for - some policies reduce the excess rather than reimburse it completely. The van hire must have a CDW policy attached to it for these policies to work.
It is always important when hiring a van that you carefully read the terms and conditions on your van hire agreement and, if you are unsure what insurance is included, check with the van rental company. Make sure you have done this before you actually sign the rental agreement as after signing you are legally bound by the terms and conditions.
Van hire excess insurance is only available as a daily policy .
How much does van hire excess insurance cost?
Policies start at just £6.33 per day!
It is important to compare all the policies available as they do offer different levels of cover and you need to be sure that you have the right cover for your requirements. We discuss some of the features that can be included below.
Prices correct as at 21st April 2023
Who can van hire excess insurances cover?
Drivers aged between 21 and 85

Residents from EU and EEA countries including the UK, Isle of Man and Channel Islands

Additional drivers as long as they are listed on the van hire agreement
What vans can be covered by a van hire excess insurance policy?
What cover is provided by van hire excess insurance?
The following areas can be included but levels of cover vary between policies so compare providers to help find the best van hire excess insurance for your trip.
Van Insurance - Features to consider
Business Use
Policies may have restrictions on business use for the hire vehicle. Some will not cover the van if it is used for 'hire and reward'. Sometimes cover is not included for tradespeople who are hiring the van as a replacement for their own van - for example if it is in for repairs. Please check the terms and conditions of any policy, if you will be using the van for work, to make sure that the policy is adequate for your needs.
Rental Periods
All the van hire insurance policies will cover rentals up to 14 days in length. One company, Insuremyvanhire.com, will cover hires up to 60 days - ideal if you are looking to cover a longer hire.
European Hire
Every van hire excess insurance policy will cover use of the van within the UK. Icarhireinsurance policies automatically include use within the EU and EEC too. Questor can also include European use (for hires starting and finishing in the UK) for an extra charge. Make sure you have selected the UK and Europe option if you purchase their policy and need European cover.
Van Club Hires
If you are a member of a van club, such as Zipvan, then look for a policy that offers cover for van club hires. Once your results have been displayed select the policy inclusion for car clubs at the top of the page and appropriate policies covering such arrangements will be displayed.
This information is based on journalistic investigation and research. It is not financial advice. Any information should be considered in regard to specific circumstances. Any suggestions followed up are done so at your own risk and your own research is key.
** Save 60% - A one day policy through the MoneyMaxim van hire comparison service which covers the vans excess (up to £6500) with no excess costs £10.99. It also covers damage to the vans roof and undercarriage. A one day excess waiver product from Hertz in the UK covering a Ford Transit, cost £30. This covers the vans excess, but does not include damage to the roof or undercarriage.
Image courtesy of: Johannes Andersson at Unsplash
This content was last reviewed on 06/12/2023