Compare TV and Home Entertainment packages - Find the Ideal Package for your Home
Compare digital TV and Home Entertainment packages fast with MoneyMaxim. If you are looking to upgrade or switch supplier always search the market for the best package first.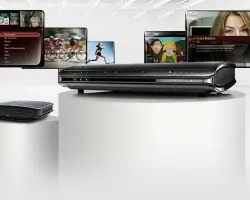 Cheap TV and Home Entertainment deals - find them with MoneyMaxim
Considering switching TV or Home Entertainment contract? Find the best deals from Digital TV suppliers like Virgin Media, Sky and TalkTalk with MoneyMaxim's comparison service.
| | | | | | |
| --- | --- | --- | --- | --- | --- |
| | Mix TV bundle offers 253 channels including 10 HD and 10 Sky channels, as well as 1,500 hours of TV on demand and 700 hours of catch-up TV. | £26 per month | 12 months | £25.00 activation fee | Includes Tivo box |
| | Full House TV offers 346 channels including 50 HD channels, box sets and 16 Sky channels, in addition to this 2,200 hours of on demand TV and 700 hours of catch-up TV is available. | £49 per month | 12 months | £25.00 activation fee | Includes Tivo box |
| | The Entertainment pack includes mix of channels. You can tailor your tv channels by adding extra packs such as the Sports channels or Boxsets for an additional fee | £25.00 per month | 18 months | £15.00 | £22 per month for the first 18 months |
Image courtesy of: Virgin Media
This content was last reviewed on 16/01/2019