Currensea Debit Card - Low 0.5% Foreign Transaction Fee and £10 Cashback
Avoid additional transaction fees and bad exchange rates with these credit cards that are great for use abroad!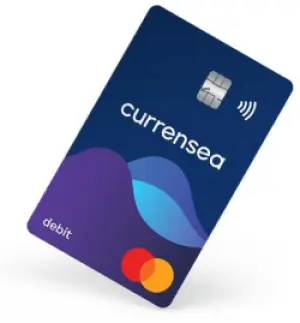 What is a Currensea Debit Card and how does it work?
Currensea is a debit card designed for use abroad and is free. Any payments on it are directly charged to your chosen UK bank account in sterling together with a small 0.5% fee. So for a £80 meal you would pay a charge of 40p.
It is a really hassle free way of making payments at very low cost and is a fantastic reserve card for anyone who has anxiety about their main card being blocked or lost.
Better still there is currently a £10 cashback offer (once you have spent £150 on the card abroad) if you apply for a Currensea Card through MoneyMaxim- which means the first £2,000 of spend on the card is effectively free.
You must use this link to qualify for the promotion - do not sign on using the app until after you have applied for the card as this will invalidate the offer.
You can also withdraw up to £500 per month free of any ATM withdrawal fees, however a fee of 2% is charged if you withdraw more. Be aware though though that some ATM providers abroad may charge their own transaction fees.
Reasons to get a Currensea Card
If your current debit or credit card charges you more than 0.5% for use abroad. Many credit and debit cards charge between 2.5% and 2.99% so there can be big savings to be made here.
If you have a fee free credit card but want a fallback. We would always say travel with more than one means of payment - and this means that if you do, for example, lose your main method of payment or it is inexplicably blocked by your card provider you have a great backup that will cost you next to nothing.
If you want an instant way of making payments - rather than having to fund a Monzo or Starling account to allow you to make onward payments. Whilst there is a small price to pay for many this hassle free card will be a welcome addition to the wallet, and save any need to go online to make transfers.
If you want to increase your free ATM limit . You can use it alongside the free Monzo card (which now has a £250 monthly limit) and the Revolut card where the limit is £200, increasing you 'free withdrawal limit' to at least £700.
You can avoid any credit rating issues - as there are no credit searches undertaken on application.
Remember though its is a debit card - so is not suitable for hotel or car hire payments where preauthorisations are required.
How can I apply for a Currensea Card?
Use our Currensea Travel Debit Card with £10 Cashback link to ensure you qualify for the cashback offer.
How does the Currensea card work
You basically use it in the same way as any other debit card.
Currensea get authorisation from your bank and instantaneously approve your payment request.
Depending on the currency you are making your payment in this will be converted at the Mastercard or interbank rate, Currensea will add 0.5% fee (for the free card - there are subscription model cards where an annual fee is payment and no fees are added - see below).
If you have downloaded the app (which we recommend) you will see the payment detailed on it.
Two or three days later the payment will be taken from your bank account via a direct debit payment.
What exchange rates and charges apply to a Currensea card?
Currensea offers 16 major currencies at the market rate (interbank) and the remaining 164 currencies at the Mastercard rate (although is very slightly lower than interbank it tends to be slightly better than the VISA rate). When you are using a free Currensea card plan, the 0.5% fee will then be added on top.
Currensea are very straightforward when it comes to their charges.
Upgrade options with Currensea
As well as the basic free card, known as 'Essential' there are:
Currensea Premium Card: Which has no fee at all for overseas payments and costs £25. This is worthwhile if you plan to spend over £5000 on your card abroad.
Currensea Elite Card which has a whopping £140 annual fee - but as well as fee free payments there are a number of benefits such as lounge access for £20 a visit and a concierge service.
Will Currensea work with any bank?
Not every - but certainly most more traditional banks - Barclays, Bank of Scotland, First Direct, Halifax, HSBC, Lloyds, Nationwide, NatWest, RBS, Santander, TSB, Ulster Bank are all OK.
What's the most I can withdraw from a cash machine monthly?
You can withdraw up to £1,000 per month from ATMs outside the UK. Remember additional fees may apply once you withdraw more than £500 (Essentials) or £750 (Premium and Elite).
As a debit card Section 75 protection does not apply, however the card includes Mastercard chargeback protection, which means you can lodge a claim with Currensea, who in turn will raise disputed charges with Mastercard. Often in practice this means the outcome is suimilar to Section 75 - but of course does not have its legal standing.
The card normally arrives within a few days and once activated through the Currensea app or website it can be used immediately.
Our Summary
We would recommend trying the basic version first as this allows you to try out the card and decide if its for you - unless of course you are certain you are going to be a heavy user when the Premium card may suit you better.
Why not road test the card on your next trip abopard - you have nothing to lose and £10 to gain
This content was last reviewed on 25/07/2022