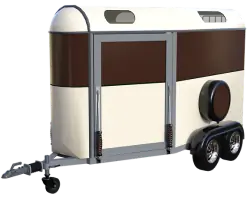 Horse Trailer Hire Insurance
If you are looking to hire a horse trailer for any period up to 6 months horse trailer hire insurance could be ideal for you.
This policy insurers trailers (rather than motorised horseboxes) and can cover vehicles with a value of up to £10,000.
It means that if the horsebox is accidentally damaged, stolen or damaged in a fire you are protected. It also provides public liability insurance among the standard risks covered.
There are other risks that can also be covered - as the policy offers the ability to add optional benefits including:
Recovery and Delivery Costs - which will pay for alternative transportation costs if your trailer is disabled.
Loss of Entry Fees if, as a result of a claimable incident, alternative transportation is not available and you are unable to reach a planned event.
Policies with a term of over a month will also allow European cover to be added
To arrange a quote click the 'Get a Quote' button above.
Please note that the insurance must be purchased by the person who is renting the trailer rather than the owner.
Any Queries? Call us! Unlike other comparison sites we have people to help on hand! Just call us on 0118 321 8197. We'll be happy to help.
This content was last reviewed on 07/06/2022