European Train Tickets and InterRail Passes
We will search out the latest offers on European rail tickets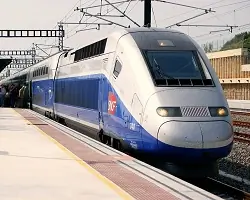 We enable you to simply find great prices on Rail Tickets and Passes for European travel.
Just some of the tickets we compare are:
Rail Tickets
Rail is the smart way to travel to Europe. Relax as you speed across the continent. avoiding all the hassle of airport security and check-ins, cramped seats and long transfers.
InterRail Global Passes
Travel in up to 30 countries across Europe with a Global Pass. Benefit from fantastic rates and take your time exploring all that Europe has to offer.
InterRailing is the best way to really discover Europe and see countries as you travel across them. Choose the InterRail Pass that suits you and start your wonderful journey across our continent. You can book passes covering trips of up to a month. .
One Country Rail Passes
If you are visiting just one country but really want to get to see it fully then a 1 country InterRail Pass is ideal. There are a wide range of options covering different destinations and trip lengths so there. With a variety of styles and durations, there's a pass to suit everyone and every trip, often at discounted rates.
Swiss Passes
Swiss rail travel is renowned around the world, and its a great way to travel around this iconic destination. A range of passes are available including:
Swiss Travel Pass - comprehensive offering local, regional and private scenic railway, waterway and road travel. Free admission to more than 480 museums. 50% discount on most mountain railways. Children under 16 when accompanied by adult travel pass holder.
Swiss Transfer Ticket - Allows on Swiss trains at the start and end of your holiday. It is valid for one month.Therefore ideal if you're flying or taking an international train into Switzerland and want to then take a local or regional train to your accommodation.
Also available are the Swiss Half Fare Card and the Swiss Family Card.
Image courtesy of: eldelinux - "TGV Duplex Figueres"
This content was last reviewed on 30/10/2020