Level Term Mortgage Protection Insurance Policies | Understand the benefits of Level Term Insurance
Have an interest only mortgage? - In that case a Level Term Life Insurance policy is likely to protect you and your family best. We explain why.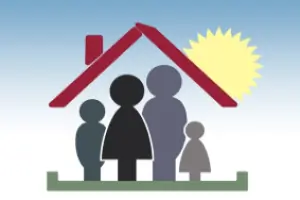 Level Term Mortgage Life Insurance is a policy which will pay out a specific amount on the death of the insured person to a named beneficiary or beneficiaries. This means, whether you have just taken out the policy or are in the final months of its term, it will pay out the same figure.
It is therefore ideal to cover an interest-only mortgage as, if you are only repaying the interest on the mortgage, you will still need to repay the amount you borrowed in the first place.
What do I consider when taking a Level Term Mortgage Protection Policy?
You need to make sure that the figure you insure covers the mortgage you have taken. You should also make sure the policy is taken out for the same period your mortgage will last for. If you think that you might want to extend the mortgage you could set the policy up for a longer period at the outset, as the cost of life insurance is a lot less when you are young and you can normally cancel a policy free of penalties at any time.
This means that, if you should die during the term, your beneficiaries (which is normally your family) are able to repay the mortgage and continue to live in their home. It will normally also reduce their outgoings as they will no longer have to pay the mortgage.
Can I take out a Joint Level Term Insurance Policy?
Yes - very much so - Joint Life Insurance policies can be taken - which will repay the mortgage on the death of the first of the insured. These are normally cheaper than taking two separate single life policies.
What are the advantages of taking a Level Term Protection Policy?
You know exactly what the policy will pay out

You can take out a policy that will allow for an additional sum to be paid to your loved ones as well as repaying the mortgage

You might want to inflation proof the policy if you are looking to do this so that the value of the additional lump sum is not eroded over time.
What else should you consider when taking a Level Term Protection Policy?
Would a Reducing Life Insurance policy be more suitable? It will be cheaper if you have a repayment mortgage to take out a reducing insurance policy, as the amount paid out reduces over the term of the mortgage. This is particularly relevant for older policyholders, or those with significant health conditions, where premium rates are much higher.

Rather than arranging for a lump sum to be paid out to your family on your death would a Family Life Insurance policy be better, where the payout is monthly or quarterly and can extend for a longer period into the future?
How quickly can Level Term Mortgage Protection Insurance be arranged?
In a matter of hours or days if your situation is straightforward - although if you do have to go through medical screening this can take up to three months (depending on the availability of the medical screening team). If you are able, we would suggest talking to one of the advisors about three or four months before the date you anticipate you need to put your Level Term Mortgage Protection Insurance in place - but if you need to do it more quickly just explain that when speaking.
Can I get Level Term Mortgage Protection if I have Health Conditions?
Absolutely - although it might impact the cost of the cover. One of the beauties of our service is that the advisors are not tied to one company or product. They therefore can, in many circumstances, suggest companies who have a more enlightened approach to the condition you have - saving money and hassle on the way.
How can I get advice on whether Level Term Mortgage Protection is right for me?
We will be happy to arrange a call back from a friendly mortgage protection specialist. They operate on a fee-free, no obligation basis, and will be happy to share their experience on the different ways families can ensure they are protected. They can also arrange policies from most large insurers in the UK.
Often rather than concentrating on just one type of insurance such as Level Term Mortgage Protection they will look at what your needs from insurance are and then suggest a range of options that will cover you best within a budget you find affordable.
We can get an expert advisor in touch with you - click the green button above or on the link below - provide your contact details and requirements and we will be on the case.
Our expert partner for life assurance is LifeSearch. They are one of the UK's largest life assurance brokers who have been providing this service for over 25 years now. They can offer cover through a number of companies including Aviva, AIG, British Friendly, Legal & General, LV=, Royal London,The Exeter, Guardian, Vitality, Cirencester, Scottish Widows,National Friendly, Holloway, Shepherds Friendly and Zurich. They are, in the same way as MoneyMaxim, regulated and authorised by the FCA, and offer a guarantee to give you the most competitive premium possible to fit your needs = all fee free and without obligation.
Image courtesy of: Gerd Altmann at Pixabay
This content was last reviewed on 26/06/2023