Can Life Insurance cover vapers?
Searching for the right life insurance when you enjoy vaping can be tricky but we make it easy by putting you in touch with the experts. They can talk you through the options to find the best fit policy at the most affordable price.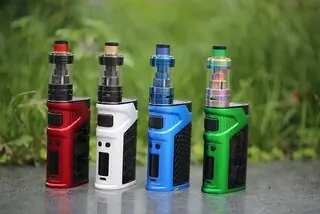 Can I get life insurance if I am a vaper?
You certainly can - but comparing life insurance policies is very important as insurance companies are likely to offer different degrees of cover at different levels of affordability.
Our service which provides experts in this field, can make it much easier to understand your options when it comes to insurance that will cover vapers, whether that is life insurance, mortgage protection, critical illness cover or income protection. The experts we use to support our users have full knowledge of the pros and cons of the different policies available if you are a vaper.
Simply click on the green button above (or click on the link at the bottom of the page), enter the few details requested and you will be off and running with your search.
Can vaping affect my life insurance premiums?
There are estimated to be over 3 million people in the UK who vape and while vaping is believed to have a much much lower health risk than smoking cigarettes, it is not risk-free. With a greater chance of claims comes higher premiums.
A large number of insurance companies will treat vaping in the same way as smoking as there is still not much in the way of research into the long-term effects. Other companies take a different stance and by speaking to our expert partners they can help you find companies that may take an approach which is more fitting for your needs.
As always with insurance, honesty is key. If you fail to mention that you are a vaper, you could find your cover is not valid just at the point when you need it.
Will my life insurance be cheaper if I start vaping and give up smoking?
If you have just given up smoking then you are not likely to see an immediate saving on your premiums. Over time, however, you are more likely to see your premiums fall - particularly once it has been more than five years since you gave up cigarettes or cigars. The longer it has been since you smoked cigarettes the better for your life insurance premiums and your health!
Why life insurance is important for vapers
Many people have converted to vaping after being a smoker for some time. Giving up smoking is a great decision but there may still be risks for your health as we do not understand as yet how vaping could affect us in the longer term. There are higher risks for ex-smokers and vapers compared to those who have never smoked at all which means they are more likely to claim on their policy. It's important that ex-smokers and vapers take steps to protect their family in case they fall seriously ill or pass away.
Life Insurance policies can help to
Pay off the mortgage

Meet monthly mortgage or rental costs

Pay for extra childcare costs

Cover funeral costs
Am I deemed to be a smoker by life insurance companies if I vape?
In the insurance industry there is no 'one size fits all' approach to how vaping is considered within policies. As discussed above many will regard it in the same light as smoking but there are plenty of others who will see it differently.
Each insurer may have different rules with regard to e-cigarette users or vapers, and also those who use nicotine patches, gums or lozenges. When you apply for quotes through us, say you are a smoker but ensure you disclose exact details of your situation when you talk to an advisor.
If you have ever smoked cigarettes, cigars or a pipe you should also give the insurance company the correct information regarding your past smoking history.
Normally insurers will class someone as no longer being a smoker 5 years after they have given up.
We can help you find a great value life insurance or protection quotation which covers you as a vaper
With our no obligation comparison service there is no pressure when you ask us to review the options available to you for life insurance. Simply fill out our online form by clicking the button above or clicking through on the link below and we will get our panel of experts to start searching.
Our team will be delighted to arrange a callback to discuss your situation. Let us help you today.
Our life assurance partner is LifeSearch one of the UK's largest life assurance brokers, who can provide cover from a range of companies including AIG, Aviva, British Friendly, Legal & General, LV=, Royal London, The Exeter, Vitality, Scottish Widows, Guardian, Cirencester, National Friendly, Shepherds Friendly, Holloway and Zurich. They are, like MoneyMaxim, regulated and authorised by the FCA, and offer a guarantee to give you the most competitive premium possible after they've found the right cover for you. And this is all fee free and with no obligation.
This content was last reviewed on 17/05/2023