Sally Wilson
Sally is a key member of the MoneyMaxim editorial team. She is a frequent hire-car user and often goes on holiday with her family. With an interest in getting great value for money, Sally shares her hints and tips for travelling and insurance.
29 January 2018
Looking to rent a seven seater or larger vehicle this summer? Book early!
Seven seater car hire can be in high demand so leaving it late to book can lead to disappointment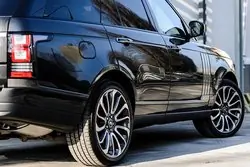 There are many reasons why you may choose to hire a larger vehicle on your next holiday or business trip - travelling with the whole family, a group of friends or colleagues or because you will have a lot of luggage - but if you want to increase your chances of getting the vehicle you need at a reasonable price then book your car hire early.
There are many different models available for those looking for 7 seater, 8 seater or even 9 seater car hire. The size that suits you will depend on the number of passengers you have and the amount of luggage. Sometimes on longer journeys it is just nice to have plenty of space. Bear in mind that regulations for car seats in other countries can be different so you may need to consider this when choosing the size of vehicle you need.
Some car hire companies will list cars as 7 seaters which are actually what may be described as 5 + 2. Models such as the Ford SMax and the Citroen Grand C4 Picasso do have seven seats but the back row has very little legroom so can be quite cramped for adults. When they are in use, they also eat into the luggage space.
Whenever you are hiring a model of car that is unfamiliar to you, it is a good idea to spend some time before you drive away, getting to know the controls of the car. Make sure you adjust the mirrors to give the best all round visibility. With a longer car, reversing into a car parking space is preferable as you have a clearer view of other road users when you leave. Remember that a bigger car, particularly one that is loaded with people and luggage, may not have as much power as you are used to and it may handle very differently.
Excesses on larger vehicles are often higher, in Italy they can be as much as €2800. The MoneyMaxim Car Hire Excess Comparison Service provides quotes for policies which will reimburse this excess should you have an incident. Most of the policies will cover vehicles with up to 9 seats. Minibus insurance is available for vehicles with up to 15 seats.