Sally Wilson
Sally is a key member of the MoneyMaxim editorial team. She is a frequent hire-car user and often goes on holiday with her family. With an interest in getting great value for money, Sally shares her hints and tips for travelling and insurance.
29 March 2017
Bikepacking - Find travel insurance for your holiday on two wheels
Planning on a Cycle Touring holiday? We can help with travel insurance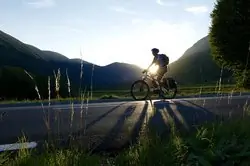 Bikepacking, also known as cycle touring, has become increasingly popular over the last few years. People are looking at holidays with a difference and taking two wheels on your holiday can certainly take you to places that cars can't. Not all travel insurance will cover cycling as standard, especially if it is the sole purpose of your holiday. We can help - we have found travel insurance that can include cycle touring.
So what is bikepacking? Effectively it is like backpacking only, instead of walking, you travel by bike. All your gear, tent and all, is stored on your bike in panniers or on the rear of the cycle which gives you the freedom to explore paths and trails that may take you further into the countryside than using four wheels. And if you don't want to camp? There is also the option of using hostels or hotels instead. No need to go without the luxuries if you don't want to!
When looking at insurance to cover a bikepacking or cycle touring holiday, you need to consider several aspects but especially whether or not the insurance provider will cover you for cycle touring. Some only cover cycling as an activity that is just a small part of your holiday, some cover mountain biking, some will not cover cycling at all. You may also need to consider, even if cycle touring is included, whether or not you need additional insurance for the bike itself. Some travel insurance companies will include cover for the bike, some won't.
Bikepacking can be a marvellous adventure but preparation is key - after all you can't carry as much on your bike as you would in a car! Britishcycling offer some wise words when it comes to planning your trip. Phone charging may be an issue, so look at taking a charging block as well as suitable adaptors. Taking a printed map is a good idea as back up. You may not get internet connection everywhere on your travels.
If you are taking your bike on a plane, check the luggage allowance as you may find you have to pay extra. Also ensure that your bike is adequately protected to avoid damage. Even if it is covered by your travel insurance whilst it is on the plane, they will have an accepted standard of packaging for the time it is in transit.
Stay safe while on holiday. If you are looking to explore a country you have never been to before, or where there has been unrest, check the guidance from the foreign office before travelling. If you are travelling within the EU, make sure you have a valid E111 card and, wherever you go, make sure you pack some basic first aid essentials.