Sally Wilson
Sally is a key member of the MoneyMaxim editorial team. She is a frequent hire-car user and often goes on holiday with her family. With an interest in getting great value for money, Sally shares her hints and tips for travelling and insurance.
7 January 2020
When should I buy car hire excess insurance?
Buy car hire excess insurance now so you don't forget it!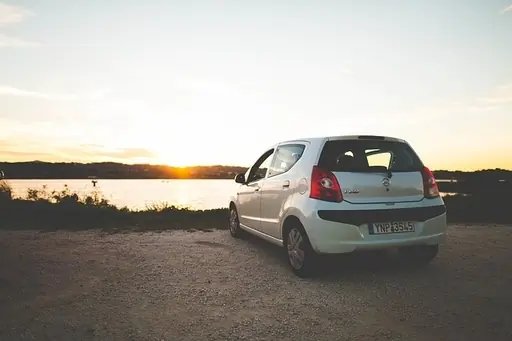 When you hire a car, it often comes with the main insurances in place. However, you may find that you are still liable for an excess. So what can you do? Take out an excess reimbursement policy and you could not only reclaim any excess you may have had to pay out but also find additional cover for other areas too.
The most important step before purchasing any extra insurance for your rental car is to make sure you know what you already have included with your hire. Once you know this, you can run a quote for car hire excess insurance and find a policy that suits your needs.
Any car hire insurance policy, whether it is just to cover the excess or if it is a Collision Damage Waiver policy, needs to be purchased before you pick up your vehicle. Once you have signed the paperwork at the desk and they have handed you the keys it is too late.
Can I buy an excess policy as soon as I have booked my hire car?
Yes. Many single trip and annual policies will allow you to purchase up to a year before your hire. Others can only be bought closer to your pick up day.
We show all policies that fit the details you supply but, responding to feedback from our customers, we have now added an extra service. If the excess insurance you would like is not yet available for you to purchase as it is too far in advance, you will see this button appear by that policy on your quote.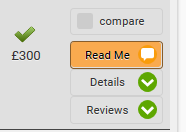 By clicking on 'Read Me' this form will then appear which enables you to request a reminder or you can choose to select a different policy.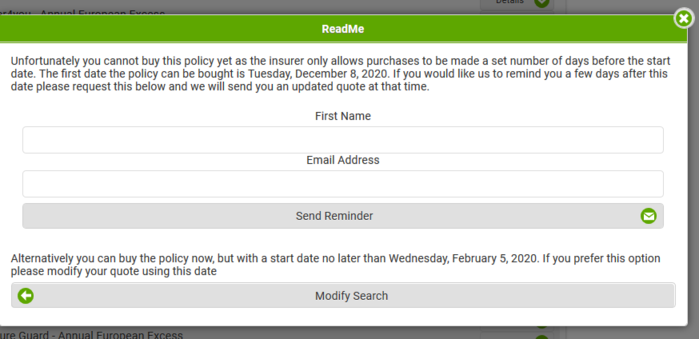 What else can a car hire insurance policy cover?
All the excess reimbursement policies through our comparison service cover the additional areas of tyres, wheels, roof, underbody and glass elements. They can also provide reimbursement for charges made for misfuelling, lost keys and towing.
You can also find Collision Damage Waiver options and Supplementary Liability Insurance if you discover that the cover from your car hire company is not adequate. We can help with any questions you may have regarding your car hire insurance. Please give us a call on 0118 321 8197
If you run a quote for a hire car through MoneyMaxim, we will send you prices for car hire excess insurance at the same time - just to make life a little easier for you!