Sally Wilson
Sally is a key member of the MoneyMaxim editorial team. She is a frequent hire-car user and often goes on holiday with her family. With an interest in getting great value for money, Sally shares her hints and tips for travelling and insurance.
24 May 2017
A trip to the Canary Islands can really expand your horizons when you go Stargazing
Take your hire car on a stargazing tour in the Canaries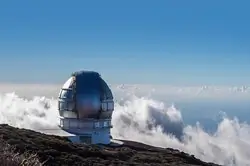 If you talk about a night out in the Canary Islands, the first idea that comes to mind would probably be restaurants and bars but the Canaries have another little known attraction - Astrotourism.
Astrotourism? (We hear you ask) - The Canary islands are the place to go if you want a clear view of the night sky. Due to the Trade Winds which blow towards the equator, there is less cloud cover in the Canary Islands and therefore there is an outstanding view for budding astronomers.
The skies above the Canaries are even protected through the Law of Proteccion de la Calidad Astronomica de los Observatorios. This inhibits light, atmospheric and radio wave pollution from affecting the great views and also makes sure that flight patterns do not interfere with stargazing.
There are numerous observatories, planetariums and viewing platforms on the islands. Observatorium Roque de Los Muchachos is perched on the highest point on La Palma - at 2426m high. The GREGOR observatory in Tenerife is the largest in Europe. Both of these offer tours and can be visited by the public.
Alternatively you can arrange to go on a night time stargazing tour with a guide. There are Starlight Reserves on La Palma, Fuerteventura and Tenerife. These are areas where the night sky takes priority and there is a commitment to maintain its quality. The views are therefore, literally, out of this world.
If you would rather explore by yourselves then there are plenty of viewing points on the islands. Take your hire car up one of the hills to a viewing platform and download one of the many free apps on your phone. These use the built in compass to work out which way you are facing. Hold your phone up to the sky and it will tell you what you are looking at.
So whether you want to see Orion, Taurus or Cassiopeia - the Canary Islands can offer you a stellar holiday!