Sally Wilson
Sally is a key member of the MoneyMaxim editorial team. She is a frequent hire-car user and often goes on holiday with her family. With an interest in getting great value for money, Sally shares her hints and tips for travelling and insurance.
1 November 2023
Are you concerned about charges for damage to your hire car that you didn't cause?
Your camera phone could help you when it comes to unwarranted car hire charges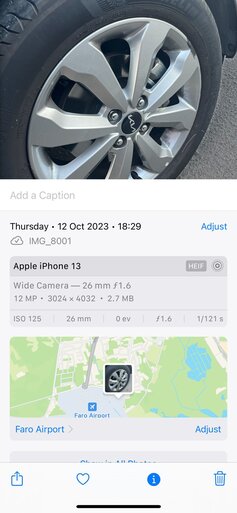 A concern that gets raised from time to time with our customers is what happens if they are charged for scratches or dents to their hire car that did not happen during their rental period. What can you do to prevent this?
One of the best ways to provide evidence of the condition your rental car was in when you picked it up is to use your phone. Add in car hire excess insurance for that extra peace of mind and you can drive away with confidence.
Most people now have a mobile phone. We almost all take these handy devices with us when we go away and, as photos are timestamped and geolocated, they are the ideal way to prove what damage was already in existence before you drove away. Take a look at our photo here and you can see how useful it can be.
You can even use video if you wanted to. The bonus of taking photos on your phone is that they are so easy to delete once you no longer need them so take as many as you need.
If you have hired a car before you will know that usually a pre-existing damage report is filled in before you drive off. Any damage that is already on the car is marked on this report. This is where you should take your time to look over the car carefully. Don't forget the wheels as they are prone to bumps and scrapes especially alloys. Take photos of any scratches or dents you can see and ask them to be added to the report. You could also use a selfie stick to video under the car if you so wish!
Another great idea is to use your mobile phone to take a photo of the fuel gauge before you drive away. This can ensure that you return the car with the same amount of fuel as you picked it up with.
It is important that you don't feel rushed and only sign the pre-existing damage report when you are satisfied that you have checked the car.
Another way of protecting yourself against charges for damage to your rental vehicle is to take out car hire excess insurance.
If you are charged for damage, whether you caused it or not, you can claim back for any excess you are charged using one of these car hire insurance policies. They also cover areas that are not covered under the Collision Damage Waiver such as damage to wheels, tyres, glass, mirrors, roof and underbody of the vehicle. Many policies offer additional cover for lost keys, misfuelling, towing and admin fees too.
With car hire excess insurance in place you can drive away knowing that, if you do have a bump or a scrape and you are charged, (providing you have driven within the terms of your car hire) you can get your money back.
It is quick and easy to get a quote for car hire excess insurance and they cost from around just £2 per day