Sally Wilson
Sally is a key member of the MoneyMaxim editorial team. She is a frequent hire-car user and often goes on holiday with her family. With an interest in getting great value for money, Sally shares her hints and tips for travelling and insurance.
11 October 2017
Do I need Sand and Ash Damage cover with my Car Hire Excess Insurance?
Hiring a car in Iceland? You may want to consider Sand and Volcanic Ash cover.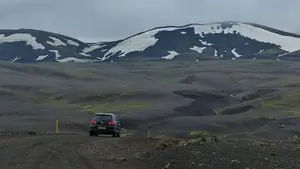 The volcanoes that are threatening to erupt in Bali and Vanuatu have both been in the news recently. The effects on travel can be very disruptive and not just when it comes to air travel. Iceland has fairly frequent volcanic activity and its landscape and weather conditions can seriously hamper driving and cause major damage to cars.
If you are hiring a car in Iceland, check the insurance that comes with your hire car to see whether they exclude any damage caused by sand and ash.
If they do you may want to consider adding cover to protect yourself against such damage. If this extra cover has an excess there are policies available through MoneyMaxim Car Hire Excess Insurance Comparison Service which include sand and ash excesses. Some of these are also offered at significant discounts are offered on policies companies when purchased through MoneyMaxim.
Full details of policies available in Iceland are available on our Car Hire Excess Insurance in Iceland page.
Our sister site Clarify Car Hire also offeres a unique way of finding car hire in Iceland in that it has a special filter showing prices which include volcanic ash cover.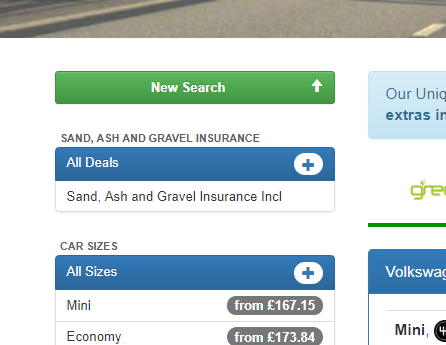 Iceland is prone to sandstorms caused by strong winds whipping up dry earth and ash on the ground. These can occur anywhere but are particularly common in the south of the country.
Volcanic ash and sand are made up of tiny fragments of rock, minerals and volcanic glass. Their tiny size means they are able to enter any gaps in the car, possibly clogging up air vents and systems so that the car is liable to overheat and the engine could fail.
Please note that Car Hire Excess Insurance will not cover mechanical or electrical damage caused by sand and ash so, if there is a storm or the the likelihood of a storm taking place, then do not drive and and try and keep the car under cover to prevent such damage occurring.
The sand and ash which blows against the car bodywork can cause terrible damage to the paintwork. It can turn from shiny to a dull matte effect quite quickly and cars that have been affected often need complete resprays. Not a cheap repair!
Driving through these storms is very hazardous as ash can be suspended in the air making visibility exceptionally poor. The roads can also become more slippery and treacherous. If you find yourself in a sandstorm, do not be tempted to drive faster to get through it. If you can find shelter behind a wall or building then do so.
When your car hire insurance does not exclude volcanic ash or sand damage from the Collision Damage Waiver section of their policies then all the car hire excess policies will cover the excess on the CDW should you make a claim.
If, however, damage caused by volcanic ash and sand are excluded, select an independent excess policy that will reimburse you for volcanic ash, sand and gravel claims. Run a quote through the MoneyMaxim car hire excess insurance comparison service and, once you have your results table, click on the filters button at the top. If you select 'Iceland Volcanic Ash Damage' from the list, your results will be filtered to the companies which can cover you for volcanic ash claims.
Need any further help? Please contact us on our freephone number 0800 520 0699 or via our webchat. We will be very happy to discuss your options with you.