Sally Wilson
Sally is a key member of the MoneyMaxim editorial team. She is a frequent hire-car user and often goes on holiday with her family. With an interest in getting great value for money, Sally shares her hints and tips for travelling and insurance.
28 November 2017
Car Hire Excess Insurance - Protect Yourself when the Temperaures Drop
What are winter tyres and when should I use snow chains? We can answer your questions on winter car hire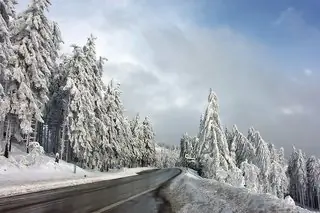 Car hire excess insurance is a good idea at any time of the year but even more so during the winter when unfavourable driving conditions and darker evenings can lead to an increase in incidents on the road. Taking out additional car hire insurance can prevent you being out of pocket for a large bill at the end of your holiday. Run a quote with MoneyMaxim to see how little independent car hire excess insurance can cost.
When you hire a car, the standard legal insurances that you need to have are Collision Damage Waiver (CDW), Theft protection and Third party insurance. The first two areas both usually come with an excess - the first part of any claim that you will be responsible for. Within Europe these can reach levels above £2000, and many CDW policies will also have exclusions. The wheels, tyres, roof, underbody and glass elements of the car are frequently not covered.
A car hire excess insurance can reimburse you for not just the excess should you need to pay out but also those areas above which are not included within your CDW. In winter, the chances of a claim on your car hire insurance can rise. Ice and wet weather make the roads more slippery and dealing with these conditions is harder when you are driving an unfamiliar car.
In the winter the road surfaces may be covered with grit, twigs and debris all of which can be the cause of chips to the windscreen, scratches to the bodywork or damage to tyres. Skids can be the reason for dents or marks on the wheels. If you want to avoid an extra large bill near Christmas then look at additional insurance with your car hire.
Along with the protection of car hire insurance, making sure your hire car is ready for winter driving is also very important. If you are driving abroad, you may need to have winter tyres fitted or rent a set of snow chains. The AA can provide guidance on what equipment is legally required in each country.
Winter tyres give greater grip on the road due to being softer. Grooves in the tread disperse the snow and water to lessen the chance of a skid. Full winter tyres are recognisable by the snowflake symbol on the rim. Mud and Snow tyres - indicated by M & S - are sometimes acceptable but make sure you know the regulations in the country you are hiring in as they are not considered full winter tyres.
Snow chains only need to be fitted when road signs indicate. In some countries, however, it is necessary by law for them to be in the car. They should be fitted to the driving wheels on the car and, if you are not sure how to fit them, ask before you leave the car hire station. Having a torch and thick gloves with you can make fitting them in the cold and dark that much easier. If you have snow chains on, there is usually a maximum speed limit.
In all cases it is the driver's responsibility to make sure the car has the right equipment - not the hire company - so blaming them will not help you if you are stopped by the police. In some countries, such as Italy, the legal requirements can change by region. Your hire car company should be able to guide you. There is normally a charge for winter tyres and snow chains (often called a winterisation fee) so factor this in when you are comparing car hire.