Sally Wilson
Sally is a key member of the MoneyMaxim editorial team. She is a frequent hire-car user and often goes on holiday with her family. With an interest in getting great value for money, Sally shares her hints and tips for travelling and insurance.
15 January 2018
Own Skis? Want to travel? Hire a car with a ski rack
Are you planning on taking your own skis on your winter holiday?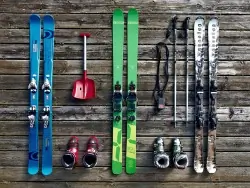 Often there are more flights available to larger airports and prices of flights can sometimes be cheaper too. Combine this with car hire and you can not only easily reach your ski resort but also have the liberty to discover a range of resorts close to where you are staying.
We looked at flights for February 2018 half term*. Choosing to fly into Innsbruck that week could set you back £670. If however you are heading for the Austrian Alps, although Munich is further away, flights start at just £385. This could be a huge saving if you are travelling with a large family. Opt for Milan instead of Innsbruck for popular resorts such as Cortina d'Ampezzo in the Italian Dolomites and you could save a massive £425 per person on flights.
With car hire from Munich airport starting at £161.07 and an incredible £24.48 for Milan car hire, it is worth considering all your options when it comes to planning your skiing holiday. If you decide to travel between Austria and Italy, you will need permission from your hire car company to take the car across the border.**
Many car hire firms also offer the option of hiring a ski rack to attach to the roof of the hire car. These are an extra feature with the hire car so there will be an additional charge. These charges can be between about 10 and 20 Euros per day. Some companies may also charge a refundable deposit for the ski rack.
Ski racks can hold a different amount of skis. We would suggest contacting your car hire company directly to find out how many ski racks you will require for your holiday as you do not want to turn up at the car hire desk to find your skis won't all fit. If you are taking a snowboard, you may require a different type of rack.
Getting in touch with the car hire company will also ensure the ski racks are available so that you can reserve them for your trip. Some companies, such as Enterprise, may not offer ski racks as an extra when you book through the website. They are dealt with directly at the location desk. Prices will also vary depending on the location in many circumstances.
You may have considered buying or bringing your own ski rack but, if it is not provided or fitted by the car hire company and you damage the roof of the car in any way, then you will be liable for the cost. You should also be careful if you load skis inside the hire car as damage to the interior will not be covered by your CDW (Collision Damage Waiver) policy.
It is the driver's responsibility to ensure that the hire car follows all the legal requirements including having all the correct equipment for the winter weather. Requirements are different depending on which country you are hiring in. The AA have a country by country guide to help you.
Some hire car companies will automatically supply winter tyres if they are necessary whereas with others you will need to request them. Again, it is the driver's responsibility to ensure they are fitted if legally required. You may have the option of adding snow chains. If you do opt to hire snow chains, make sure you are shown how to fit them properly as if you damage the car you may be liable. If you damage a road surface with snow chains, you could also find yourself facing a fine!
Winter driving can be more hazardous. Gritted roads can lead to chipped windscreens, and ice and unfamiliar roads can result in minor scrapes. Using the MoneyMaxim Car Hire Excess Insurance comparison tool you can find great value policies to cover the excess on your car hire insurance. These policies also provide reimbursement for the cost of damage to windscreens, wheels, tyres, the roof and the underbody of your hire car. Some policies will also cover damage to the interior of the vehicle.
Please check with your airline with regard to baggage allowances before you travel. Most airlines will allow skis in the hold but there may be a charge.
*Prices were compared on Skyscanner on 15/01/18 for flights from 10th-17th February 2018 from London airports. **Car hire prices are based on a compact car for the above dates booked on 15/01/18.