Sally Wilson
Sally is a key member of the MoneyMaxim editorial team. She is a frequent hire-car user and often goes on holiday with her family. With an interest in getting great value for money, Sally shares her hints and tips for travelling and insurance.
14 October 2015
Dashcams can save you money on your car insurance
An increase in fraudulent car insurance claims has led to a rise in demand for dashcams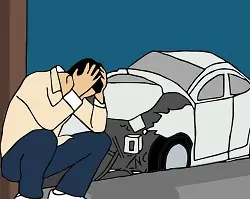 A dashcam may be at the top of many people's Christmas lists this year after a rise in 'Crash for Cash' claims and a growing number of reports of fraudulent claims for damage. If a dashboard mounted camera is on your list you may want to compare insurance policies which offer a dashcam discount.
A report in the Times states that the increase in those road users who are trying to claim compensation for an accident that either didn't happen or they caused themselves has led to motor insurance premiums costing more. For the honest road user this is frustrating and installing a dashcam can be a great way of ensuring that you are not the victim of fraud. Not only that but hopefully in the long term, the use of dashcams could result in a reduction in fraudulent claims and maybe therefore even a drop in premiums.
Dashcams are small sized cameras which are mounted on the dashboard of your car and record the road ahead. They can be wired into your car to come on automatically and record on a continuous loop. Evidence from a dashcam can help prove or disprove insurance claims. This may assist you in protecting your No Claims Bonus should there be a fraudulent attempt to claim against you.
Dashcams are available from many retail outlets including the RAC and can cost in the region of £50 - £200 depending on the camera's capability. Halfords offer help and advice before buying to aid you in making sure you buy the correct model for your requirements.
It is estimated that 500 people every day input false information on an insurance claim. According to the Association of British Insurers this can cost 'above board' customers an extra £50 a year. There are many ways in which people can defraud the insurance companies such as lying about where a car is kept, the length of No Claims Bonus or 'fronting' (where the lead driver is different than stated). But when criminals are deliberately staging accidents to claim compensation, it can be very frightening.
A study by the RAC found that the use of dashcams has doubled in a year and the same survey suggested that 9% or 2.9 million drivers nationally are now using one. So if you are still undecided it is worth looking to see how much you could save on car insurance with a dashcam and then maybe you will be putting one of these handy little gadgets on your Christmas list too.