Sally Wilson
Sally is a key member of the MoneyMaxim editorial team. She is a frequent hire-car user and often goes on holiday with her family. With an interest in getting great value for money, Sally shares her hints and tips for travelling and insurance.
28 June 2022
Share the Journey - Let the Whole Family get Behind the Wheel this Summer
Additional drivers can be included for free on your car hire excess insurance policy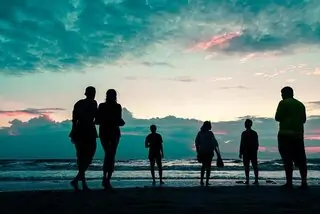 Many of us when we hire a car on holiday opt to add an additional driver. It means that on longer journeys you can share the driving and also take turns at enjoying a night out with a glass of wine perhaps. But does an additional driver need their own car hire excess insurance policy?
The clear answer to this question is no. If the lead driver takes out a car hire excess insurance policy through MoneyMaxim then an additional driver can be covered under the same policy for free as long as they are listed on the actual car hire agreement. In fact, the majority of policies available through our comparison service will cover a number of additional drivers.
Car Hire Excess Insurance for your additional driver
Several of the excess insurance companies do not need details about the additional driver when you purchase a policy. Through these companies the extra drivers are automatically covered if they are included in the rental car contract. Additional drivers can do the majority of driving even though they are not the lead driver.
Other companies will require you to provide details for all drivers. It is important that when you go through to purchase any policy you fill out any details fully and as required by your chosen car hire excess insurance provider and then you can be sure that you have the cover you need. Please read terms and conditions carefully.
If we are hiring two cars do we need two policies?
There are car hire excess insurance policies which can cover more than one lead driver and therefore more than one hire. The lead driver is the person who has signed and taken responsibility for the rental car. These policies are sometimes known as family, dual lead driver or joint policies. By using our comparison service you can filter for this type of insurance by clicking on 'Policies Allowing More Than One Lead Driver' at the top of the results page when you run a quote.
Multiple lead driver policies are only available as annual policies and can be a great saving if you are hiring more than once through the year. However, if you and another family member are only hiring two cars for one week, you may discover it is cheaper to opt for two single trip policies – one for each lead driver – rather than a combined policy.
Family car hire excess policies often limit those who can be covered to family members only or people living at the same address so do check that the two lead drivers on your trip can be covered under the same insurance policy and whether the policy allows two cars to be hired at the same time. More information can be found on our dedicated multiple lead driver policy page.
We are here to help with car hire excess insurance questions.
Car hire excess insurance policies can cover adults between the ages of 21 and 85 so families really can share the driving. If you have any queries regarding car hire excess insurance policies – particularly if you have two drivers who are resident in different countries – then please give us a call on 0118 3218197 and we will happily talk you through your options.