Sally Wilson
Sally is a key member of the MoneyMaxim editorial team. She is a frequent hire-car user and often goes on holiday with her family. With an interest in getting great value for money, Sally shares her hints and tips for travelling and insurance.
22 May 2018
See the Quieter Side of Greece with your Hired Car
There are still plenty of secluded holiday locations in Greece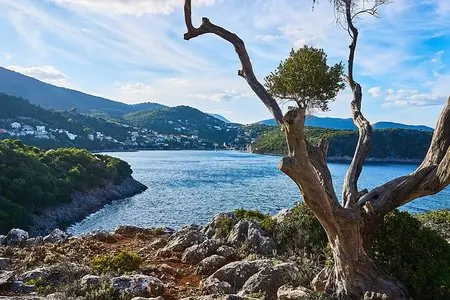 Greece has been a popular holiday destination for many years but, despite an increase in the number of tourists visiting its shores, you can still find many quiet pockets of this beautiful country. Choosing to hire a car in Greece will also give you the opportunity to reach the more remote and often more idyllic spots.
The Greek Islands are a favourite with holidaymakers and it is easy to understand why. A mix of sandy beaches, charming villages, bars, restaurants, history and culture ensures that visitors can find a slice of everything they enjoy often within easy reach of a resort.
But what if you want to get away from it all? Maybe you just want to find that little bit of Greece that noone else has?
One of the easiest solutions is to avoid the height of summer. July and August tend to be the busiest across not just the islands but the mainland too. Hiring a car is another way of being able to get to accommodation that is a little further out of town than if you were relying on buses.
There are so many Greek islands that a good number of them remain pretty unspoilt. In general you will discover those that have an airport tend to be the busier ones. But a short ferry trip and you could find yourself on one of the many picturesque quieter island locations.
Ithaca, for example, is a gorgeous Ionian island to the east of Kefalonia. Hire a car at the airport on Kefalonia, then a 45 minute ferry crossing from Sami will deliver you to Ithaca. With any crossing it is important that you have permission from your hire car company to take the car on a ferry and that you have the appropriate insurance.
Skopelos rose to fame as the setting for the film Mamma Mia. A car in Skopelos is a must as the beaches are spread far from the town, one of the reasons this island may have retained some of its traditional feel. There are still many family run businesses and market stalls selling local produce. Hire a car at Skiathos airport and take it over on the ferry.
The lovely island of Alonissos can be reached by ferry from the port of Volos. There are flights to Volos, or you could hire a car and drive from Athens. Alonissos has quite a rugged landscape with a mixture of pine forests and olive groves. It has no shortage of beaches, a fine array of local eateries and a past which can be explored at any of the many historic sites.
Even on the mainland it is possible to escape the crowds. Hire a car at Kalamata airport and head for the Southern Peloponnese. There are several resorts there which remain wonderful peaceful places to relax on holiday. The Pelion peninsula is said to be a forgotten corner of Greece. There are some beaches there which have avoided the attention of most tourists.
If you are taking a ferry as part of your travel plans, it is a good idea to check the times of crossings as some do not run everyday, especially out of high season.
When staying a distance away from the major towns, make sure you have enough cash as the smaller shops and restaurants may not take credit cards.
The road conditions in Greece are not always good. Crumbling cliffs, potholes and wandering goats can all be potential hazards! Your car hire may well come with the main insurances but, if you want to cover the excess or cover damage to tyres, wheels, roof, underbody and glass, then run a quote through the MoneyMaxim Car Hire Excess Comparison Service to see how much you could save compared with buying it at the car hire desk.