Sally Wilson
Sally is a key member of the MoneyMaxim editorial team. She is a frequent hire-car user and often goes on holiday with her family. With an interest in getting great value for money, Sally shares her hints and tips for travelling and insurance.
7 March 2022
Our Top Five Reasons to Visit Iceland
With a hire car from Keflavik airport you can create your own adventures in Iceland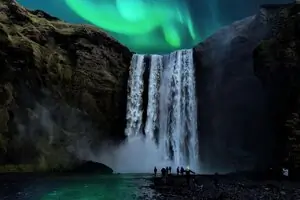 Iceland is a holiday destination with a difference – think mystical, breathtaking and dynamic. If those words don't convince you that Iceland would make a great holiday then here are what we think are the five best things to see in Iceland.
1 – Land of Ice and Fire
Iceland is famous for its dramatic landscape featuring mountains and volcanoes. More than a tenth of Iceland is made up of glaciers. There are many national parks where you can hike, cross glaciers, peer into volcanic craters, watch geysers or waterfalls, or explore ice caves. Take a stroll along one of Iceland's black basalt beaches or perhaps the diamond beaches where you can pick your way through ice boulders strewn along the shore. A visit to one of the geothermal pools such as the Blue Lagoon can provide relaxation and restoration after a hard day's hiking.
2 – The Ring Road
The easy way to see Iceland. Hire a car in Iceland and you can take this circular route which encompasses many of the main attractions of this spectacular country. The Ring Road (Route 1) can be completed in a week but with two weeks you can relax and enjoy far more of the landscape that you come across. Many visitors choose to do just a section of the route but wherever you drive, there will be so much to see. With car hire from Keflavik airport in Reykjavik, you get to choose your own journey around Iceland.
3 – The Midnight Sun
Visiting Iceland during the summer months means you can really pack in the sightseeing. Why? Daylight hours peak over the summer solstice between June 20th and 22nd when the sun does not set – hence the Midnight Sun. In contrast during winter months there is as little as 4 to 5 hours of daylight. Being awake at midnight with the sun still high in the sky is a truly unique sensation.
4 – The Northern Lights
For so many travellers this is one of the key experiences they are looking for when they choose to come to Iceland. The Northern Lights are more likely to be seen between September and early April and are most visible away from built up areas where there is less artificial light. There are plenty of organised tours which can help you seek out the best viewpoint to see this amazing phenomenon.
5 – Whale-watching
Iceland is the perfect place to go if you want to see whales in their natural environment. There are more than 20 species of whale that live off the Icelandic coast and you are likely to see at least one variety on a whale-watching trip but hopefully more. These boat trips often take you around the cliffs where you can also spot the beautiful puffins roosting on the craggy slopes. Fancy exploring from a different viewpoint? Try a ride on an Icelandic horse. These beautiful creatures were originally brought over to Iceland by the Vikings.
MoneyMaxim are experts in finding you Iceland car hire and can talk you through additional car hire insurance to protect you against the cost of additional damage to your rental car which can be caused by Iceland's unique environment. We can compare car hire excess policies which cover sand, ash and grit damage for Iceland car rentals.
Iceland's volcanic landscape can be unpredictable. Consider a travel insurance policy which includes cover for volcanic ash cloud issues just in case your holiday has a bumpy start. Policies can also help if you are stuck abroad or if you need alternative transport home. Many travel insurance providers offer cover if you have a pre-existing medical condition and some cover more adventurous activities you may want to try while you are on holiday.