Sally Wilson
Sally is a key member of the MoneyMaxim editorial team. She is a frequent hire-car user and often goes on holiday with her family. With an interest in getting great value for money, Sally shares her hints and tips for travelling and insurance.
8 June 2016
Take the road less travelled down under when on your Australian road trip
Hire a motorhome, RV or rental car and travel the length of Australia
The Explorers Highway (or Stuart Highway) traces the steps taken by the pioneer John McDouall Stuart, one of Australia's most proficient explorers. The route runs from Darwin on the north coast down to Adelaide. It is possible to follow the route in either direction but, if you wanted to combine this trip with a drive along the Great Ocean Road, then ending in Adelaide is ideal. From Adelaide you can follow the magnificent coastline all the way along to Melbourne - or further if you wish.
A road trip across Australia takes some planning and that includes the decision about which type of vehicle you will drive. Hiring an RV or motorhome will give you the freedom to come and go as you please and to have everything with you should you need to stop for a break. You can wake up every morning with a different view and be as spontaneous as you would like. Alternatively a 4 wheel drive hire car may give you the opportunity to explore some routes that may be less suitable for a larger vehicle. Please bear in mind that most hire car companies rules mean that you must keep to public highways.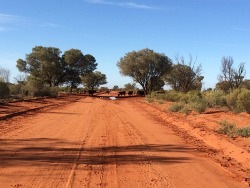 Darwin is Australia's only tropical capital - on the doorstep of Litchfield National Park and looking out on to the Timor Sea and across to Bali. It is a beautiful starting point for a road trip. Pick up an SUV hire car from Darwin International airport dropping it back at Adelaide International Airport 3 weeks later from £587.66.
Litchfield National Park covers around 1500 square kilometres and contains some fascinating natural features such as the Magnetic Termite Mounds - incredible statues built by termites that are all constructed north to south facing. The Florence Falls are a double waterfall located within the forest which drop into a swimming hole which is open all year round. All the swimming holes in Litchfield park are crocodile free!
Travelling along the Stuart HIghway through Adelaide River also follows the path of the overland telegraph line which was completed in 1872 enabling rapid communication between Australia and the rest of the world. At Katherine you will be at the southern end of Kakadu National Park - at 20,000sqkm, it is Australia's largest terrestrial national park. With waterfalls and gorges as well as abundant wildlife and fauna and Aboriginal art, it is a fantastic place to while away a few days camping, canoeing and hiking.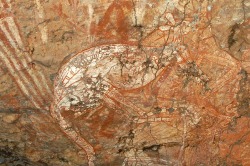 This region of Australia is famed for its gold rush history, cattle stations and outback way of life. Visit Springvale Homestead in Katherine which claims to be the oldest cattle station in the Northern Territories and when you get thirsty head for the Daly Waters Pub, a true outback pub experience. The Elliott and Newcastle Waters Trail branches off the Stuart HIghway although some of the roads are only accessible to 4WD vehicles. Driving south leads you to Karlu Karlu or The Devil's Marbles - gigantic granite boulders which appear to glow red at sunset.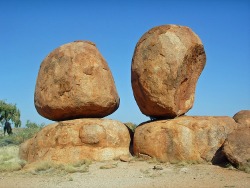 Alice Springs, with its vintage buildings and located some 1500km from the nearest city, is an ideal base for exploring the Red Centre - the interior desert region. Within the town itself it is well worth visiting The School of the Air - see how children living in remote regions are able to learn via satellite - or take a stroll up Anzac Hill and enjoy the views. From Alice Springs head for Watarrka National Park where you can enjoy a ride on a camel, hire quad bikes or hike the 22km along GIles Track between Kings Canyon and Kathleen Springs. These springs are of specific importance to the Aboriginal people and also to the local wildlife so you cannot swim there.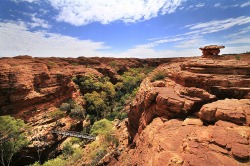 This road trip along the Explorer's Highway, gives you a chance to visit Uluru - one of Australia's most iconic landmarks. According to Aboriginal Dreamtime, Uluru was created at the beginning of time by 10 Aboriginal ancestors so it plays a very significant role in their culture. This is one of the reasons why visitors are discouraged from climbing it. The same park also boasts Kata Tjuta - a formation of 36 sandstone rock domes which are believed to be around 500 million years old.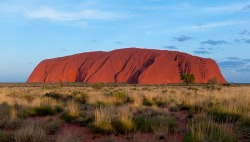 Further south on the Stuart HIghway brings you to The Painted Desert in the Arckaringa Hills. This natural phenomenon where the changing light on the desert landscape creates a palette of colours is breathtaking. The road then takes you through several national parks of which it seems criminal to pick just one but the Ikara-Flinders Ranges park does embody the Australian outback. This park is world famous for its impressive fossil remains, as a refuge for a rare species of wallaby and for its Aboriginal rock carvings. The park itself has been commemorated in paintings by Sir Hans Heysen.
The Stuart Highway ends in Port Augusta and from there you can either take a direct route or follow the coastline to Adelaide. Australia is such a vast country - it would be impossible to take in everything it has to offer on your holiday (unless you had a couple of years to spare of course!) - this route is just a guide and there are many other attractions to visit off the Explorer's HIghway.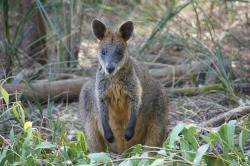 It is important to consider that many of the roads that lead to these attractions are not always in the best condition. Rough terrain and loose gravel can all play havoc with windscreens and the underside of the car - both areas which are often left out of the standard insurance that comes with your hire car. Use our car hire excess insurance comparison service to find policies that will cover not only the excess on your standard car hire insurance but also the roof, wheels, tyres, glass and underbody of your car. We also offer similar excess policies for motorhomes. If you are hiring a vehicle for longer than 18 days, you may find an annual policy works out more cost effective.
A road trip through Australia can mean many miles without coming across a petrol station or a town. Make sure you fill up when you have the opportunity and always keep a good supply of food and water in your car. Don't forget your mobile phone charger! Australians also drive on the left which makes it easier for those used to driving in the UK. It is advisable to stop driving after sunset as the wildlife are more active and they can be hard to spot in the dark. This road trip involves driving through the centre of Australia. Check the hire car company's terms and conditions before booking to ensure you will be allowed to take your planned route. One way car hire may involve an additional charge although if you plan a road trip the opposite way round from the norm, you can sometimes get a deal for returning a car back the other way. It is worth asking!
Pictures courtesy of Pixabay
Prices based on SUV booked on 7/6/16 and hired 3/9/19-24/9/16