Sally Wilson
Sally is a key member of the MoneyMaxim editorial team. She is a frequent hire-car user and often goes on holiday with her family. With an interest in getting great value for money, Sally shares her hints and tips for travelling and insurance.
31 August 2016
Unearth hidden gems when on your South African Car Hire Road Trip
From Johannesburg to Cape Town via Durban - a land to discover with your hire car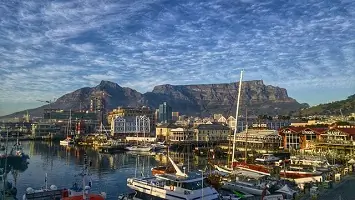 South Africa is a large country with vast landscapes. A road trip through this beautiful country can provide you with the opportunity to witness some of the most stunning scenery the world has to offer. Car hire in South Africa is straightforward. If you fly into Johannesburg, you will find many different car hire firms including most of the well-known brands. Booking your car hire in advance will ensure you get a good deal on the car of your choice.
With a long road trip many people opt for sharing the driving. This is a good idea so that the driver doesn't get too tired and it gives everyone the chance to savour the outstanding views. All of the car hire excess insurance policies on our site include additional drivers at no extra cost. These drivers just need to be named on the car hire agreement and the policy itself should be in the name of the lead driver.
There is so much to see that it is difficult to narrow down destinations but our suggested road trip route starts in Johannesburg, the second largest city in South Africa and home to more than 3 million people and ends in Cape Town, a city voted 'Best city in the world to visit' by the Daily Telegraph three years in a row. We found three week SUV hire from Johannesburg to Cape Town available for £535.88.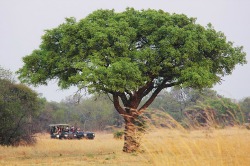 Johannesburg started off as a settlement based around the gold-mining community in the 19th century and has grown to become a thriving cosmopolitan city with a vibrant culture. Spend a few days at the start of your trip in the city soaking up the lively atmosphere. There is a chance here to familiarise yourselves with some of the varied history of this glorious country. Constitution HIll is a national heritage site. It was once a prison where Nelson Mandela and Mahatma Gandhi were held but it is now a museum with exhibitions demonstrating how South Africa shifted to democracy. There is also the Apartheid museum about 8km south of the city centre but beware as this can be quite a distressing experience.
Gold Reef City is an amusement park situated on an old gold mine just outside the city. Here you can find theatres, casinos and plenty of places to eat. To get a feel of Johannesburg itself, you can take a tour which will encompass the townships - a sense of real life for many thousands of residents - and the Hector Pieterson museum recounts the life of one young man from the townships who lost his life at the age of 13. Visit the flea markets, local art exhibitions and ethnically diverse restaurants and you will understand how truly multi-cultural this city is.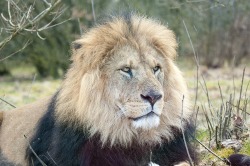 Once you have spent a few days resting in Johannesburg, you may be ready to begin your road trip in earnest. Heading towards the coast to the southeast for about a 6 hour drive and you can reach the Hluhluwe Imfolozi National Park. This park offers accommodation as well as safari tours, game drives, walking trails and boat tours. The park is world renowned for its White Rhino conservation and you can also spot the rest of the big 5 (elephant, buffalo, leopards and lions) along with cheetahs. If you are planning on taking in a safari, when you arrange your travel insurance, make sure you find one that will cover safari trips.
If history sparks your interest then the battlefields of Rorkes Drift and Isandlwana are about a four hour drive from the Hluhlwe Imfolozi National Park or can be visited as an alternative route towards the coast if you prefer. You can book a tour with a guide who will detail the events that took place there during the Anglo-Zulu war of 1879.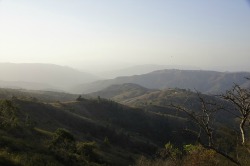 Durban may be your next heading, about a three hour drive from the game reserve. This beachfront city is a melting pot of African, Indian and colonial influences. Explore the magnificent Durban Botanical Gardens, or the Valley of 1000 Hills about a half hour drive from the centre of Durban. This breathtakingly unspoilt region provides wildlife, scenery and a chance to relax and enjoy the local wine at one of the many hotels in the area.
Durban also offers the Ushaka Marine World with displays taking place throughout the day and the Golden Mile. This is the beachfront area, not too dissimilar to Santa Monica in California, where you can cycle, walk or segway, pausing for a coffee overlooking the brilliant blue ocean when you get tired. Also available nearby is mountain biking in the Giba Gorge. There truly is something to suit everyone.
Spending a few days in Durban will leave you rested enough for a longer drive down towards the Addo Elephant National Park. If the ten hour journey is too long for you, there are plenty of beautiful coastal resorts in which to spend a night to break up the trip.
The Addo Elephant Park, which is about 120,000 hectares, was established in 1931 in order to save 11 elephants. It is now home to over 350 and also to buffalo, rhino and antelope. If you are limited for time, the elephant park is not far from Port Elizabeth from where it is possible to catch a flight back to the UK.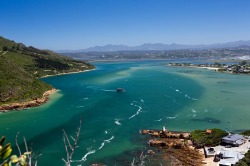 Heading west from Port Elizabeth leads you to the start of the highly recommended Garden Route at Plettenberg Bay. This is an area which encapsulates an array of outstanding natural beauty that is difficult to equal. Not only that, but with so many varied activities on offer, it can be hard to decide which ones to fit in so give yourself plenty of time! There is bungee jumping, canoeing, skydiving and zipwires. For those who want something a little less strenuous, you can choose from wine tasting, whale watching and hiking to name just a few. Alternatively just sit back and enjoy the passing scenery and the wildlife that lives amongst it.
Go for a dip in the safe swimming waters of Plettenberg Bay or Mossel Bay at the end of the Garden Route, luxuriate in the lagoon at Knysna or visit the Cango Caves. This is an idyllic region not to be missed before you head further west to Cape Town.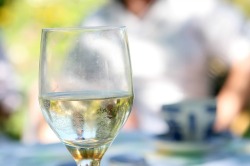 Cape Town is famous around the world for its fantastic wines. Book a wine tour in Stellenbosch - South Africa's second oldest town and a leading light when it comes to South African wine. There are a plentiful supply of wineries to explore and they can be combined with discovering the other wonderful sights of the winelands around Cape Town.
For the best views in the area, take a cable car up Table Mountain to discover Cape Town at your feet. A boat ride will take you out to Robben Island - the former prison housing Nelson Mandela which is now a museum. The mixed heritage of Cape Town including Dutch, French, Malay and English gives it its unique feel. If you want to slow it down before your journey home, enjoy one or two of the many high class restaurants in the city perhaps after spending time watching the whales out in the bay.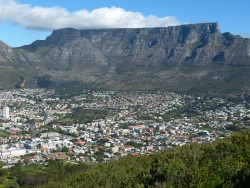 Flights are available from £518 for flights from Heathrow to Johannesburg returning to Heathrow from Cape Town. If you are hiring a car, you can find cover for your excess using the MoneyMaxim Car Hire Excess Comparison service. These policies also cover areas often omitted from policies through your car hire, including wheels, tyres, glass, roof and underbody. In a country such as South Africa, with its varied terrain, cover for these areas could prove beneficial.
One way fees are likely to be payable if you are returning your hire car to a different location to your pick-up. With a long road trip there is always the chance of unexpected delays. Should this arise and you feel you may be late, contact your hire car company as soon as possible. It is possible you may incur charges so it is always best to factor in extra time when planning your trip. For more information on South Africa, visit the South African Tourism website.
Flight price correct as at 30/08/16.
Hire car prices based on an SUV booked on 30/08/16 for the 6th-27th May 2017.
Johannesburg Map courtesy of Thomas Lehtinen.
All other pictures courtesy of Pixabay.