Sally Wilson
Sally is a key member of the MoneyMaxim editorial team. She is a frequent hire-car user and often goes on holiday with her family. With an interest in getting great value for money, Sally shares her hints and tips for travelling and insurance.
27 April 2022
5 Road Trip Ideas for the Queen's Platinum Jubilee Weekend
Hire a car over the long bank holiday weekend and get away from the crowds.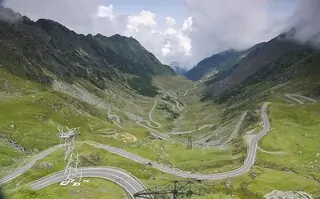 The Queen's Platinum Jubilee celebrations mean we have an extra bank holiday this year. How are you going to spend it? The kids are off school, the office is closed and (hopefully) we could see some sunny weather. With a long weekend stretching from the 2nd to the 5th June, there's a superb chance to fit in a mini road trip.
The joy of road trips is that you can arrange them to suit you. Spend as little or as long as you like at each location. Spend a day at the beach or hiking up a mountain, stop off for lunch at a village taverna, have a planned route or make it up as you go along - it's your road trip so you design it your way! Fly in or take a train to the starting point to pick up your hire car and you can be on your way.
How about hiring a motorhome for your road trip? Having your holiday home travelling with you can offer even more freedom and spontaneity to your holiday. If you opt for motorhome hire then we can also assist with motorhome hire excess insurance too.
We have come up with 5 great ideas for a short road trip that you could easily fit in over the Queen's Platinum Jubilee weekend.
Aberdeen Coastal Road Trip
Hire a car at Aberdeen airport and set off on a route which takes you around the coastline to the north of the city. This road trip can include visits to the St Cyrus National Reserve and the Forvie National Nature Reserve both brimming with local nature. You could make a stop at the Museum of Scottish Lighthouses, a fascinating exhibition of maritime history, and along the way there is also the Macduff Marine Aquarium. If you finish the trip around the Portsoy area it is only an hour and a half's drive back to Aberdeen to return your car.
Northern Ireland Causeway Road Trip
This route starts at Belfast where you can hire a car from the airport and set off in the direction of Carrickfergus. Driving around the north east coast of Northern Ireland there are a plentiful supply of castles to explore and for those Game of Thrones fans you can also peer along the legendary Kingsroad Highway known locally as the Dark Hedges. Marvel at the Giant's Causeway and gaze out at some spectacular views from the rugged coastline before heading back to Belfast. If you have time before returning the car then take a detour to the Titanic Museum.
Germany's Romantic Road
You can pick up a car at either Frankfurt airport or the main train station in the centre of Frankfurt then leave the city via the A3 towards Würzburg home to a magnificent palace. The Romantic Road route winds its way southward taking in the fairy-tale town of Rothenburg ob der Tauber and numerous castles ending in one of the most famous of all, Neuschwanstein. Set high up on a hill it is one of Ludwig II's creations and was used in the film Chitty Chitty Bang Bang. Return your car to a hire car office in Munich if you want to avoid driving all the way back to Frankfurt.
Take the Transfăgărăşan Highway in Romania
Romania may not have been first on your list when you were thinking about road trips but the Transfăgărăşan Highway is considered to be one of the most incredible roads in the world. It is relatively new – having been constructed in the 1970s for military purposes. It is over 150km long and, as you can see in the picture, it winds its way with plenty of hairpin bends through the Carpathian Mountains. As you get to the top of the road you can bask in some glorious views. Start your journey in Bucharest and don't forget to stop off at Vidaru Dam which also has an amazing vista across the countryside of Romania.
An Island Road Trip – Sardinia
Sardinia makes the perfect location for a road trip. With great beaches, wonderful hiking opportunities and stunning scenery, you can't go wrong. It is probably easiest to start your road trip in Cagliari then you can head east along the coast, stopping off to make the most of the beaches. From there you can head north and along the way pause to visit charming villages or to take a hike up into the mountains. From Palau you can take a break from driving and travel by boat across to the island of La Maddalena. Sardinia is the ideal size for mapping your own 4 day road trip to fit into the long weekend.
MoneyMaxim can help with your car hire for a road trip and the additional car hire insurance you may need. Don't let this wonderful opportunity for a short break pass you by…And if you manage to organise a road trip, we'd love to hear about it!