Sally Wilson
Sally is a key member of the MoneyMaxim editorial team. She is a frequent hire-car user and often goes on holiday with her family. With an interest in getting great value for money, Sally shares her hints and tips for travelling and insurance.
23 November 2021
Top Tips to get the best Ski Holiday Car Hire
Keep the costs of your car hire down when you hit the slopes this winter
After an enforced year off for most skiers and snowboarders across the UK many are hungry to hit the slopes again this winter.
France and Italy in particular are seeing strong demand - helped no doubt by an exchange rate which is approaching a 5 year high. Meanwhile Switzerland is seen as a safer bet having opened most resorts throughout last season.
Car hire is even more popular than ever this year - not only can you can easily get from your accommodation to the slopes with all your gear, but it's great from a social distancing perspective.
We provide our top tips for your ski holiday car hire so you can keep all the drama to the slopes and not the roads.
1. Book your car hire early - Generally the earlier you book, the lower the prices. This winter even more so than usual. Do, however, book a car hire that has free cancellation so, if you find an even better deal later on, you can cancel without a charge.
2. Consider Excess Insurance - Even if you choose to waive the excess using the car hire company's own waiver you may find you are still liable for chipped windscreens or punctures. A policy through the MoneyMaxim Car Hire Excess Insurance comparison service will not only reimburse you for any excess but also for any costs as a result of damage to glass areas, wheels, tyres, the roof or the underbody of the car.
3. Factor in the costs of extras - When you book a car hire, it can seem very cheap until you add in the costs of child seats, a GPS or ski racks. With many car hire companies these costs are not always clear. Using a broker such as our sister site Clarify Car Hire you can compare quotes for your hire with all the extras included.
4. Country requirements - Some countries will have rules that cars need to have winter tyres or snow chains fitted depending on the time of year or the weather conditions. The AA have a list of driving regulations by country. Find out from your car hire company whether they will provide any necessary equipment and whether there is an additional charge for this.
5. Winter Tyres or Snow Chains - Winter tyres give far better grip on the road as they are designed for use in sub zero temperatures. They also save all the hassle of fitting snow chains except in really bad conditions. You will see the benefit of them when a transit van hurtles around a hairpin bend apparently without a care in the world - they have winter tyres fitted! In some countries they are mandatory, in others you can opt for them as an extra. This is particularly the case if you hire from a low altitude airport and then head into the mountains.
With Clarify Car Hire you can always use the special filter we have developed which makes selecting such vehicles as easy as possible.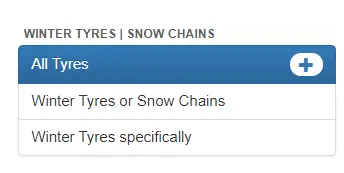 Snow chains need to be fitted when road signs require them, and when temperatures drop. In some countries, however, it is necessary by law for them to be in the car, even if you have snow tyres fitted. For more information visit the AA or read our article on choosing Winter Tyres or Snow Chains.
6. Plan your route - And then check it before you set off. Using an online mapping system such as Google Maps, Waze or Here will show you if delays are likely or - bearing in mind you are heading for snowy climes - will help you plot your way around closed roads.
7. Get Permission - If you are considering using any of your own equipment such as snow chains or a ski rack, make sure the hire company are happy for you to do so. Remember that any damage to the roof from ski rack fitting or to the tyres from snow chains may not be covered by the insurance that comes with your car hire. It would be covered by an excess reimbursement policy as long as you had permission from the car hire company to use the equipment.