Sally Wilson
Sally is a key member of the MoneyMaxim editorial team. She is a frequent hire-car user and often goes on holiday with her family. With an interest in getting great value for money, Sally shares her hints and tips for travelling and insurance.
19 June 2019
Clarify Car Hire - Offering clear prices for your ideal car hire
Our expert in-house broker can provide you with tailor-made car hire - debit card car hire, destination advice and car hire insurance packages to suit you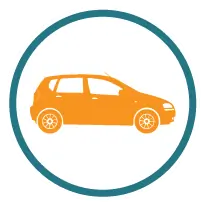 Over the years through MoneyMaxim we have spoken to many customers regarding their car hire and we realised that there was a need for car hire which offered more clarity when it came to pricing - and so Clarify Car Hire, our own in-house car hire broker, was created.
Clarify Car Hire - Clarification not Confusion
With Clarify Car Hire we aim to provide quotes which show exactly what your car hire will cost. We want to take away any nasty surprises you could face at the car hire desk - charges you weren't expecting. Our unique filter system allows you to quickly and easily tailor your car hire and find quotes that show a genuine price.
Cross border fees and additional charges for younger or older drivers are sometimes not made obvious with car rental - not so with Clarify Car Hire. These extra costs will be shown in your quote breakdown. Include an additional driver and your quote will be amended to reflect this too.
We want you to choose the right car hire package for you. When you run a quote with Clarify you can choose between the standard package - perhaps taking out independent excess insurance - or one of the car hire company's premium packages which offers their own in-house cover. The choice is yours.
Everyone wants to make sure their car hire goes smoothly and with our filter system we enable you to drill down your car hire to one that really works for you. From the size of car you want to drive, to the pick-up location to the type of supplier you book with - you can tailor your rental how you wish.
Add in your extras such as child seats and satnavs and you may find the cheapest quote changes. If you are travelling with young children, car seats are necessary but can add quite a bit to the cost of your car hire. With Clarify you are able to understand how much they will be before you actually get to the desk.
Destination Experts
Our target to achieve price transparency has led to us providing more specialist car hire filters. When travelling to Iceland for example, you may want to include sand, ash and gravel protection. When running a quote you will be offered the option of including this if needed.
Heading to Portugal this summer? It is quite difficult, if you are doing a fair amount of driving in this country, to avoid the toll roads. A transponder is a simple way of paying for the tolls but they are an extra expense. Compare car hire which includes a transponder quickly and easily with our filter.
We also have specialist filters for cross border car hire in Cyprus, island-hopping car hire in New Zealand and third party excess cover in Costa Rica. We understand that travelling to some countries can mean extra requirements when it comes to car hire.
Specialist car hire when you need it
Want to book car hire with a debit card? Uncomfortable with leaving a large excess at the car hire desk? Let us assist you with finding car hire for those without a credit card, or car hire with no or a low excess. Not having a credit card shouldn't be a barrier to hiring a car and we are working hard to provide more and more destinations that offer this service.
With Clarify Car Hire we want you to hold on to your own money for as long as possible which is why we only ask for a small deposit upfront. The balance is only paid when you get to the car hire desk. This means that you can get that great car hire deal early and keep your cash in your pocket until you go away.
We are here for your whole car hire journey
We offer clarification not just on price but also about the car hire itself. There is nothing more stressful than arriving at an airport with your family after a long flight and not knowing where to pick up your car. When you book with Clarify Car Hire, your voucher will give you all the information you need for your hire including:
details about your booking

your payment received and the outstanding balance

any transfer details

the address of the pick-up location

what you can expect from the car hire company you have chosen.
In the event that you have any queries regarding your car hire or how to book, our customer service team are on hand to provide start to finish support for your car rental. Call us on 0330 222 0369.