Sally Wilson
Sally is a key member of the MoneyMaxim editorial team. She is a frequent hire-car user and often goes on holiday with her family. With an interest in getting great value for money, Sally shares her hints and tips for travelling and insurance.
12 April 2022
What are the most common reasons for claiming on car hire excess insurance?
We talk through the top reasons why people need to claim on their car hire excess insurance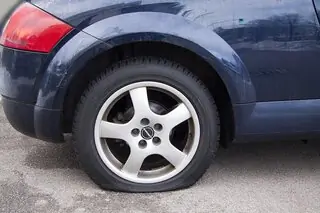 You can buy a car hire excess insurance policy through MoneyMaxim from about £1.80 per day but why would you need it? What are the reasons why people need to claim on their excess insurance? You may be surprised at what is at the top spot!
With car hire excess insurance you can be reimbursed should you have to pay out on the excess of your Collision Damage Waiver or Theft Waiver - both of these are usually part of your car hire package if you hiring in Europe. But did you know that excess policies also cover areas which are not covered by your collision damage waiver?
So the top spot goes to.....
Chipped Windscreens
The glass elements of your rental car are commonly not covered by the insurance that comes with your hire package (they are an exclusion from the CDW). This includes your windscreen and the mirrors. Frustratingly these are parts of the car that can easily be damaged through no fault of your own. A loose stone thrown up by the car in front or another vehicle driving too close to your car when it is parked in the street can leave you with a bill when you return your rental car. With a car hire excess policy in place you could be reimbursed for any of the costs.
Damage to Wheels and Tyres
The second most common reason for claiming on excess insurance with your hire car. Again wheels and tyres are often excluded from CDW cover meaning you are responsible for the whole cost - not just the excess - but are two of the easiest parts of a car to damage, particularly when you are driving an unfamiliar vehicle on unfamiliar roads. Excess insurance can help if you clip a kerb and dent a hubcap or if you get a puncture or a nail stuck in the tyre.
Scratches and Dents
Most people know this one. Your Collision Damage Waiver covers you for damage to the bodywork of the car except for the excess. If you were to write the car off, your CDW would mean you were not liable for the cost of the whole car (providing you were driving within the terms and conditions of your hire) but you would have to pay the excess. If you have a minor accident and only scratch the vehicle, you would expect to pay the whole bill (assuming the cost is less than the excess amount). In both scenarios you can claim your money back through your excess policy.
Underbody
Many will not realise that this part of your rental car is also normally excluded from your CDW. There are some countries - for example Iceland - where roads can be uneven and may have potholes. Even in the UK it can be quite easy to come across stones or branches in the road that can catch on the underside of your hire vehicle. Damage to the underbody of a car can be extremely expensive as there are some vital parts of the car located there. Protecting yourself financially therefore becomes even more important.
Roof
You park your car on a street under a tree and return to find a branch has broken off and fallen on to the roof. This is yet another area where you would be responsible for the whole cost of repair as the roof is usually excluded from your CDW. Do not attach anything to the roof of your hire car without permission from the rental company. We also recommend if you have for instance had a roof rack or ski rack fitted to your car by the rental company that you leave it there throughout the hire - as you will be liable should you damage the car whilst putting it on or off.
If you do have an accident in your rental car or cause any damage you should always call your rental company for instructions. Do not take your car to a garage or attempt any repairs yourself without speaking to them first.
The claims process is fairly simple. The majority of claims through car hire excess insurance are for under £500 and are sorted quite quickly. Provided all the paperwork is in order and submitted to the insurer then most claims are sorted within 4 - 21 days. You could find the money has been refunded to your account before you have received your credit card bill!
Excess insurance policies are also available for other types of rental vehicle including motorhomes, vans and minibuses and there are also policies which can cover hires for most types of business use.