Sally Wilson
Sally is a key member of the MoneyMaxim editorial team. She is a frequent hire-car user and often goes on holiday with her family. With an interest in getting great value for money, Sally shares her hints and tips for travelling and insurance.
6 January 2016
How Travel Insurance can help your New Years Resolution become a reality
Your dream holiday can be covered with travel insurance through MoneyMaxim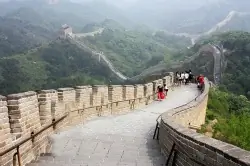 So did you make a resolution for 2016? Many people opt for a healthier lifestyle, to take on a new hobby or to give up something but for some they hope to spend more time with their families or to take more holidays.
Annual travel insurance can give you the freedom to take last minute trips knowing you are covered. It can also work out cheaper than more than one short term policy. Do note though that annual policies will have a maximum number of days that you can be covered per trip.
As well as standard travel cover we can also offer travel insurance for those with pre-existing medical conditions. It's really important that any travel insurance policy taken is suitable for your requirements and most policies will not cover you if you have recently, or are currently, undergoing treatment. The companies featured on our specialised page are experts in providing insurance for people with medical needs so you will be in experienced hands
Many annual policies have the option of adding extra cover should you decide to take on a more adventurous holiday. Perhaps you have decided to finally learn to ski or to exchange the skis for a snowboard? Winter sports cover is a necessity if you are taking to the slopes.
So, if there is something you have always wanted to try we can offer policies to cover all the following activities and more -
Bungee Jumping

Camel Riding

Hot Air Ballooning

Caving

Canoeing
Even walking in the Alps or taking part in certain activities on your cruise liner might mean you need extra cover, so whatever you have planned do check the details of your policy.
Let 2016 be the year that you finally make the trip to Lapland with the children - before they get too old for the magic! - , the year you walk along the Great Wall of China, marvel at the Grand Canyon or even take in the Olympics down in Rio. We want to help you get prepared for that dream holiday. And if by chance there is an adventure you are planning and you can't find the right insurance, give our friendly team at MoneyMaxim a call. We are always here to help.
And Happy New Year to you all!
Image courtesy of: Pixabay