Sally Wilson
Sally is a key member of the MoneyMaxim editorial team. She is a frequent hire-car user and often goes on holiday with her family. With an interest in getting great value for money, Sally shares her hints and tips for travelling and insurance.
27 February 2018
Why covering your hire cars tyres, wheels and glass is essential.
Car hire excess insurance can cover the tyres, wheels and glass of your hire car too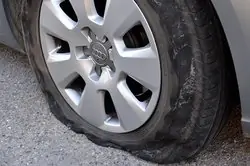 Punctured tyres and chipped windscreens are two of the most common claims for damage to hire cars. Yet quite frequently they are not covered by the insurance provided by the car hire company and you will be responsible for the whole cost of replacing them. So what can you do to avoid having to pay?
When you hire a car you want to make sure that you have the main insurances in place. These include Collision Damage Waiver (CDW) which covers damage to the hire car itself. However, CDW usually has several exclusions - areas which will not be covered at all if you were to damage them. The tyres, wheels, roof, underbody and glass areas of the car are most often listed as exclusions. CDW policies also tend to have an excess on them. This excess is the first part of a claim that you would have to pay.
It is possible to buy extra insurance at the car hire desk. These are normally excess waivers which reduce or remove the excess you are liable for. They do not necessarily include cover for the excluded areas of the basic CDW. Some car hire companies may offer a specific tyres and glass cover but these can work out fairly pricey and may not cover all the areas you are looking at.
An alternative is to consider an independent car hire excess policy. Even if you do not have an excess they can still be purchased to cover areas left out of your CDW. They can also provide additional cover for misfuelling, towing and recovery.
Tyres and glass (including lights and mirrors) may be the more frequent parts of the car to be damaged but are certainly not the most expensive. Catching the bottom of the car on an uneven road can cause thousands of pounds worth of damage. If the undercarriage is excluded from your CDW cover then you could face an eye-watering bill.
A simple solution is to run a quote via the MoneyMaxim car hire excess comparison service to see how little this extra cover can cost you. All the policies via this service cover damage to the wheels, tyres, roof and underbody of the car and most cover the glass too.
If you have rented a car within Europe and you feel you have been unfairly charged or the bill presented to you seems excessive, you may be able to take your complaint to the European Car Rental Conciliation Service. Not all car hire companies have signed up to this scheme.