Sally Wilson
Sally is a key member of the MoneyMaxim editorial team. She is a frequent hire-car user and often goes on holiday with her family. With an interest in getting great value for money, Sally shares her hints and tips for travelling and insurance.
8 June 2022
Know the Law! 10 Weird Driving Rules from Around the World
Stranger things that might just see you and your hire car in trouble with the law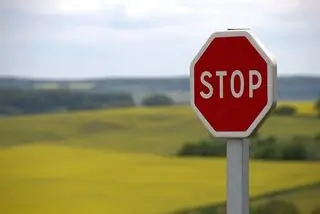 If you are hiring a car abroad this year, you will no doubt want to make sure that you stay the right side of the law. We don't have to be reminded about wearing a seatbelt and driving under the speed limit but there are some more unusual driving regulations out there in the world that you may not have come across. We highlight just a few of the ones that you are more likely to encounter.
Drive with Care in the Sunshine
1 - In both France and Germany, it is against the law to drive in flipflops. If you are spending the day on the beach in Cannes, take the time to change your shoes when you get back to the car so you don't get caught out.
2 - You should also take a minute after sunbathing or going for a swim in Thailand to make sure you are fully dressed! Driving topless – for all genders – is illegal.
3 - It gets very hot in Cyprus during the summer but, if your driver gets thirsty, pull over before offering them a drink as it not acceptable for drivers to eat or drink – including water – while they are at the wheel.
Drive Safely
4 - Do you need glasses or contact lenses for driving? Pack an extra pair if you are travelling in Spain, Portugal or Switzerland as any drivers of the vehicle will be required to carry a spare set with them in case of emergency.
5 - The roads in South Africa can be quite rural and it is pretty common to see farmers moving their animals from place to place. If you see animals on the road or about to cross then you must give way to them by either stopping or slowing down.
6 - In Slovenia having working reversing lights is not enough. You should also have your hazard warning lights on if you are making any reversing manoeuvres.
7 - It is common in Nordic countries and across other parts of Europe for it to be compulsory to use dipped headlights during the day outside of built-up areas or if visibility is restricted for example in rain and snow.
Drive with Respect
8 - There are a number of countries where you are not allowed to use your horn in a built-up area including in Italy. So, no matter if the traffic is appalling, don't be tempted to sound your horn if you get frustrated!
9 - In Rome you need a permit to drive in the historic zones so rethink any planned driving tour of the city's ancient monuments. Other cities, such as Athens, have emission zones (much like London) and parking rules can differ from country to country and city to city so do your research before you go.
10 - In Greece it is illegal to smoke while you are driving, but the majority of hire car companies will not allow smoking in their vehicles anyway. If you return the car and it needs cleaning, you will be charged.
It is always a good idea to check local driving rules before you travel – especially if you have never driven in a country before. The AA can help with driving rules across Europe. Before you go try to understand basic speed limits and check what common road signs and markings mean – it can really help avoid a headache when you pick up your car and also prevent unnecessary fines.
There are some obvious differences between driving in the UK and other countries such as driving on the opposite side of the road but occasionally we come across some more really rather bizarre laws. Did you know in Denmark you should always check for children underneath your car before setting off? And, just in case you were thinking of it, it is illegal to drive in Alabama USA whilst wearing a blindfold. You have been warned!