Sally Wilson
Sally is a key member of the MoneyMaxim editorial team. She is a frequent hire-car user and often goes on holiday with her family. With an interest in getting great value for money, Sally shares her hints and tips for travelling and insurance.
18 November 2015
Cruise Travel Insurance - Ensure its Smooth Sailing on your Holiday
Cruise and stay holidays can give you the best of both worlds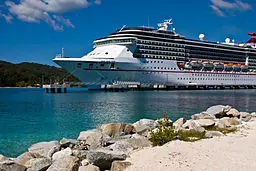 Cruises are popular all year round but even more so in winter when people look to escape from the winter gloom to find some much needed sun. There are still cruises available this winter or, if you want to take your pick, why not book ahead for winter 2016? We have Cruise Travel Insurance that will ensure your holiday will be smooth sailing when it comes to cover.
There are many advantage to cruises, not least the chance to find some warmer weather. Cruises give you the chance to visit many different cities - and even countries - from one luxury hotel. There is no unpacking and repacking between destinations. At each port there are usually organised excursions or you can choose to go it alone. You may even decide to hire a car for the day. Have a look at our car hire excess comparison service as most of the policies can be taken out right up until the start of your hire car agreement. It could save you money that you would rather spend on souvenirs!
There is something on board for all the family. From sports facilities, spas, and casinos for the adults to craft clubs, swimming pools and a cinema for the kids. You will be amazed at what they can fit on a ship! If quiet is what you are after then there always spots where you can hide away to read a book or why not book a room with a balcony where you can have your own private getaway?
With a cruise there are no stuffy car or bus rides just plenty of fresh sea air. At many times during your trip, the only view will be of the wide open sea and if you are lucky some wonderful wildlife such as dolphins. There is always food available and most ships have a variety of eateries to choose from so nobody need go hungry. Cruise staff are well-known for their hospitality. Evening entertainment is vast from bars, dancing and even sometimes theatres.
Your choices of destination are vast. The most popular cruises from the UK are to the Mediterranean, the Canary Islands or Nordic cruises to see the Northern Lights. The Caribbean is also popular. If you would rather avoid the longer cruise to get there, you can fly to Florida first and depart from there but there are sailings from Southampton too.
Some people feel that the drawback to cruises is that there is never enough time to fully explore each destination. The new trend for 'cruise and stay' holidays is a great compromise for those who can't decide which type of holiday they want or for first time cruisers who are nervous of spending their entire holiday afloat. These longer stays give you more opportunity to explore and perhaps hire a car so you can go further afield. If you are considering a cruise for the first time you may like some packing tips
Whichever option you go for our cruise travel insurance won't leave you stranded!