Prepaid Currency Cards Compared
Find out more about the UKs leading prepaid currency cards. Find out which is better in different circumstances, and apply online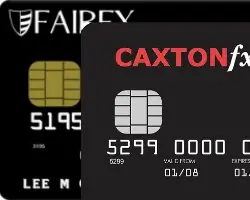 Choose from the best prepaid currency cards available in the UK
We aim to make your decision quick and easy
Comparative Exchange rates - 26th October 2021
| Company | US $ | Euros |
| --- | --- | --- |
| Caxton FX - Black | 1.3442< /td> | 1.1579 |
| FairFx | 1.3466 | 1.1603 |
Best card?
The best rates tend to vary on a daily basis so there is no 'right' or 'wrong' card to pick - both are pretty equivalent. If you are going to want to make a number of ATM withdrawals could be worth considering Caxton, as they do not charge for them in the zone of the currency (You could still be charged by the bank who owns the cashpoint machine you are using).
Both cards can be used along with a mobile app which allows you to check your balance and top up your card on the go.
Company Name
Application Fee
ATM Usage Fees from Card Provider
Monthly or Transaction Fees
How can you recharge the card
Benefits
More information and to apply
CAXTON FX

Multicurrency
FREE
None
£0.00
Via App
Online
15 Currencies can be loaded
Great Exchange Rate
Fewer ATM fees
No Commission
Mobile App
Use wherever Mastercard accepted
Caxtonfx Card
FairFX

Multicurrency
FREE


£1.00
£0.00
Credit Card
Debit Card
Bank
15 Currencies can be loaded
One of the best Exchange Rates
No Commission
Mobile App
Use wherever Mastercard accepted
Fairfx Card
Cards are available as Multicurrency cards which means you can load up your GB pounds, but spend in a wide range of currencies. The days of needing a different card for each country are long gone.
Please do be aware that these cards do not offer the same consumer protection that credit cards do - if the Bank or Building Society that issues the card runs into difficulties your cash could be at risk - however the bank and building society who issue these cards both 'ring fence' any funds held on cards to ensure that even if they got into financial difficulties funds would be available to repay their debts.
We source our data through newspaper best buy tables, information from providers and more importantly from consumers such as yourselves - if you feel you have found a rate or product we should be talking about tell us here.
This content was last reviewed on 26/10/2021